1971 VW Super Beetle, Restored in 2020
VIN 1112187314 Type 111 Sedan Built in Germany in September 1970
Engine: VW 1600cc Dual Port Remanufactured by Charvel Machining, Laredo TX June 2020
Engine: Number: AF823247 Year 1980
Body Number: 41-2-1268
Transaxle Number DC0664164
Location: Wilmington, NC 28409
Restored by: Ron & Richard Vigneri with a cummulative 100 years of car building experience.

Introduction

A restored, stock 1971 Volkswagon Super Beetle 1600cc with manual transmission that runs and drives as good as any ever did and everything works. Painted white with black flames and black interior. This Bug went from shell to shine in 7 months with a majority of new parts including engine, wiring, interior, running gear, and paint. The original Bug was built in Germany in September 1970. It was in California until 1991, then sold and brought to North Carolina and on the road until 1998 and then disassembled & stored until bought in May 2020.

Key Features

Remanufactured 1600cc engine with dual relief engine case, dual intake port heads, single 34PICT carburetor, points ignition, doghouse oil cooler/fan shroud with wide fan, new clutch/pressure plate/flywheel/throwout bearing, new exhaust.
Rebuilt 34PICT carburetor for dual port manifold with electric choke and anti-run-on solenoid.
Rebuilt trans axle (4-speed), new Gene Berg short throw shifter, new universal joints and boots on half axles.
New 12 volt alternator and starter, repaired/replaced wiring, new radio, new headlights/taillights/dome light/horn/dimmer/flasher/fuses.
New gas tank, fuel level sensor, electric fuel pump.
New headliner, seat upholstery, carpets, door panels, window seals.
New front disk brakes w/MacPerson strut front suspension.
Independent rear suspension with drum brakes.
New tires Ohtsu FP7000 91H M+S 195/65/15 on 4-bolt 130mm painted steel rims with chrome half moon hubcaps and chrome trim rings.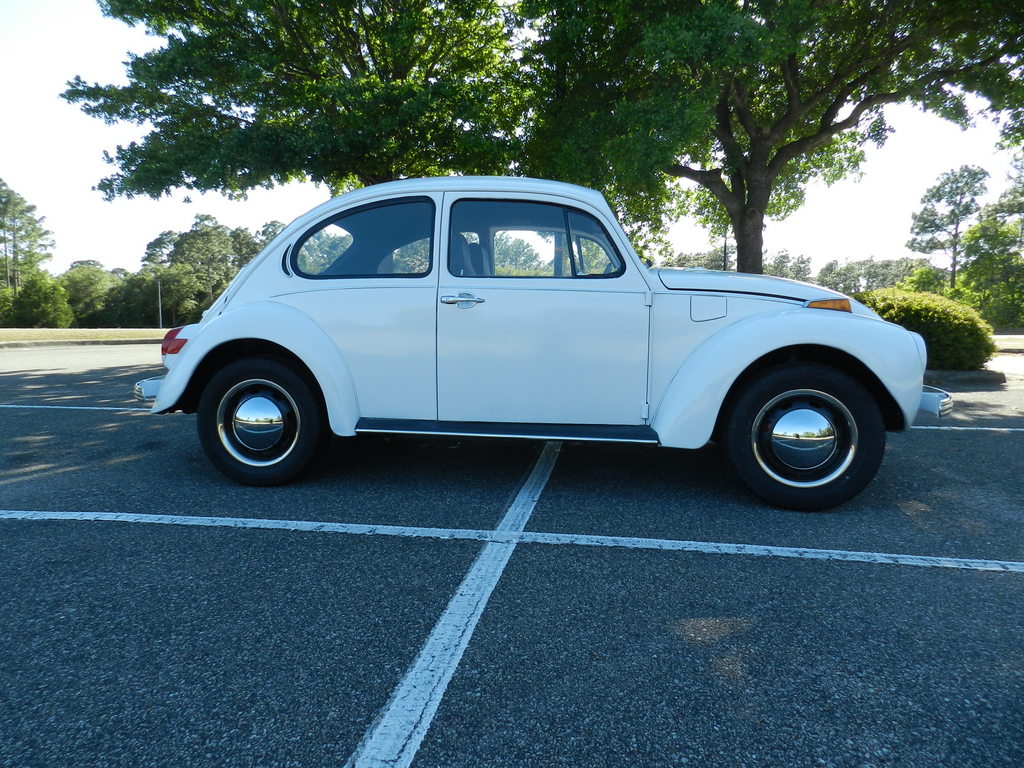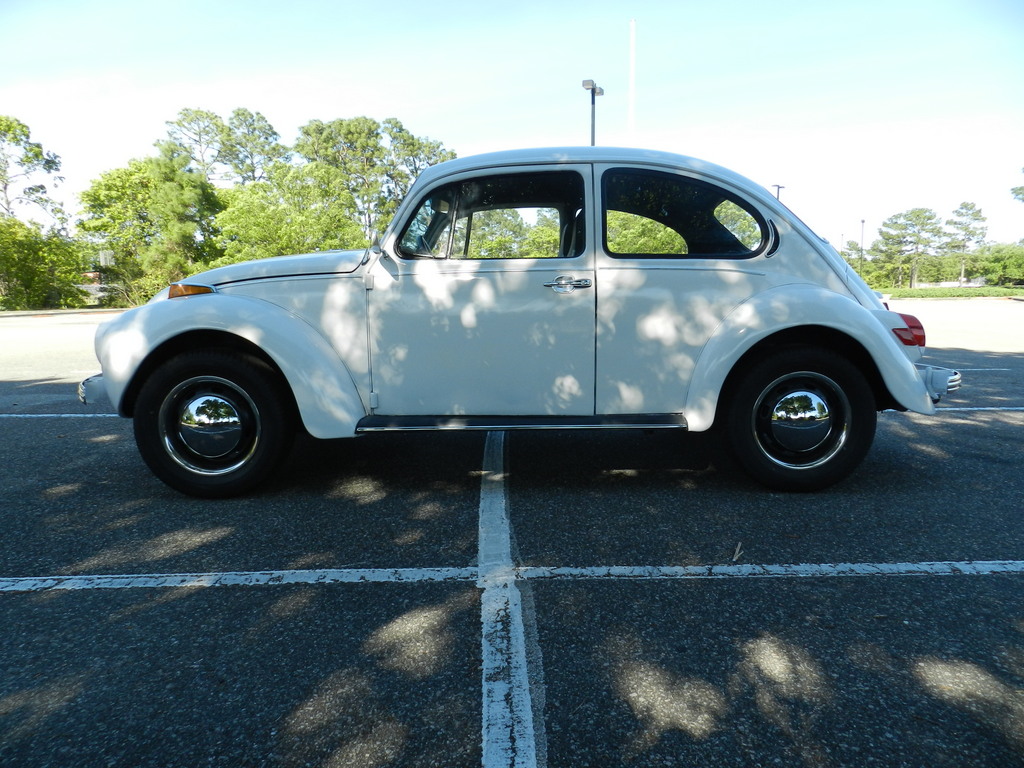 New front & rear bumpers and bolts. New weatherstrips, window seals, headlights/trim rings and taillight lenses, retractible antenna, emblems, running boards, extruded aluminum sill covers, windshield wipers, hood handle/latch. All brake pads are new. Some ball joints are new all are good. New paint outside. Complete interior is new: black upholstered seats, door panels, rear side panels, headliner, seat foam, new floor console with shifter boot, and carpet. New carpet underlayers for soundproofing and insulation. Reconditioned hand grip mounts, and seat belts. Front hood wiring shield and carpet are new. Emergency brake boot is new. Dome light is new, reconditioned front footwell heater vents and front seat skirts are not installed, but are included. New horn and horn ring, new center on steering wheel, repaired complete wiring harness for entire car, new fuses and fuse box cover, new battery, new battery box and hold down clamp. Radio (JVC) is mono with one 5 inch speaker. The engine is a remanufactured 4 cylinder VW air cooled 1600cc engine with shroud/valve covers/tins all painted blue. Mechanical fuel pump removed and near-tank mounted electric regulated fuel pump installed with engine gas lines/metal filter routed to preclude any vapor lock or boiling of fuel. Air cleaner is a gutted original stock unit customized with internal dry element (no oil bath). New plug wires, distributor, coil, points, and condenser. Fresh 20-50 Castrol oil, break-in oil change at 100 miles on engine was relatively clean. Hydraulic valve lifters are new and eliminate the need to manually adjust the valves. Master cylinder is rebuilt. New gas tank with new gas tank float and sending unit. A 50 year old VW Super Beetle in which everything works and runs and handles like new.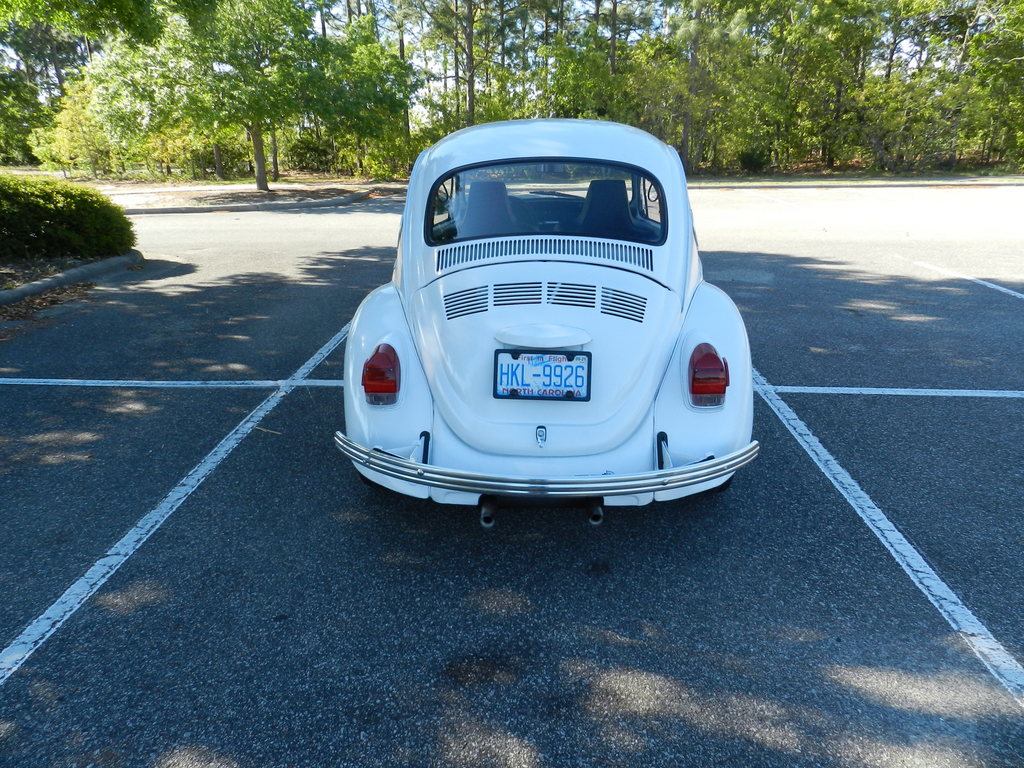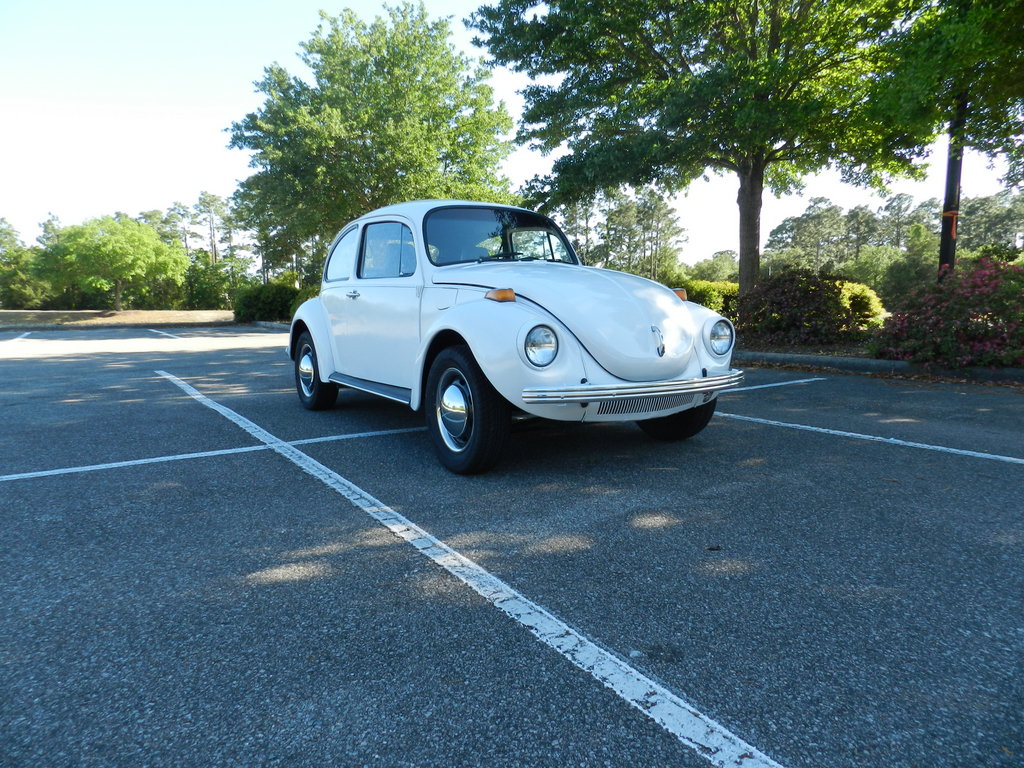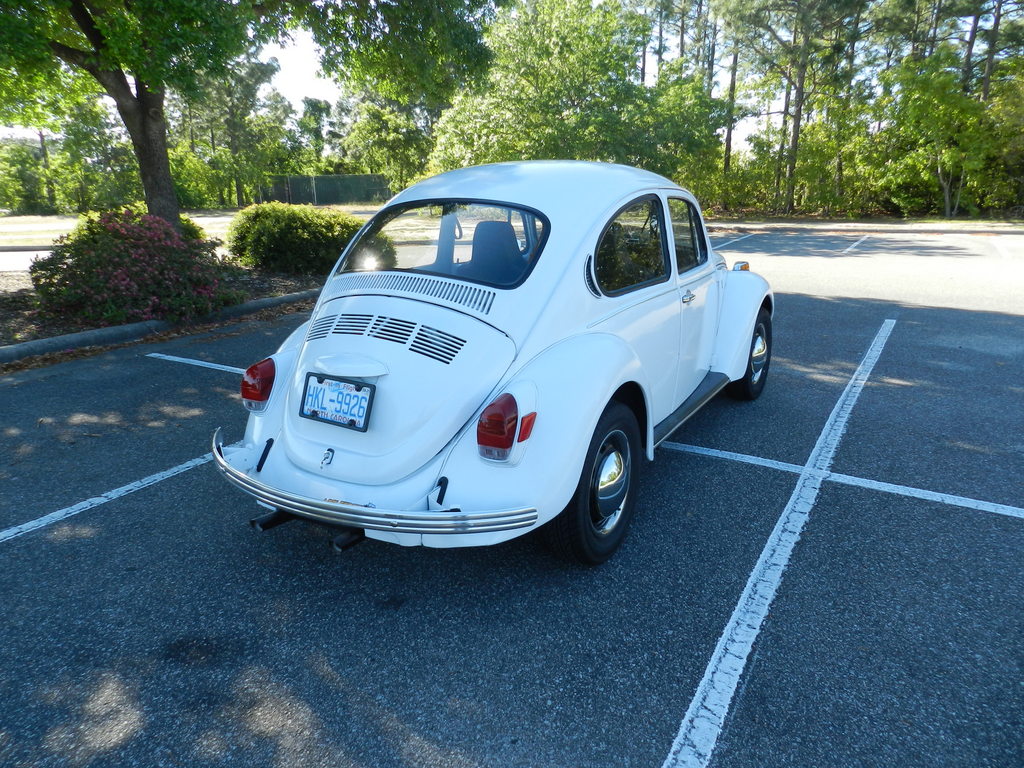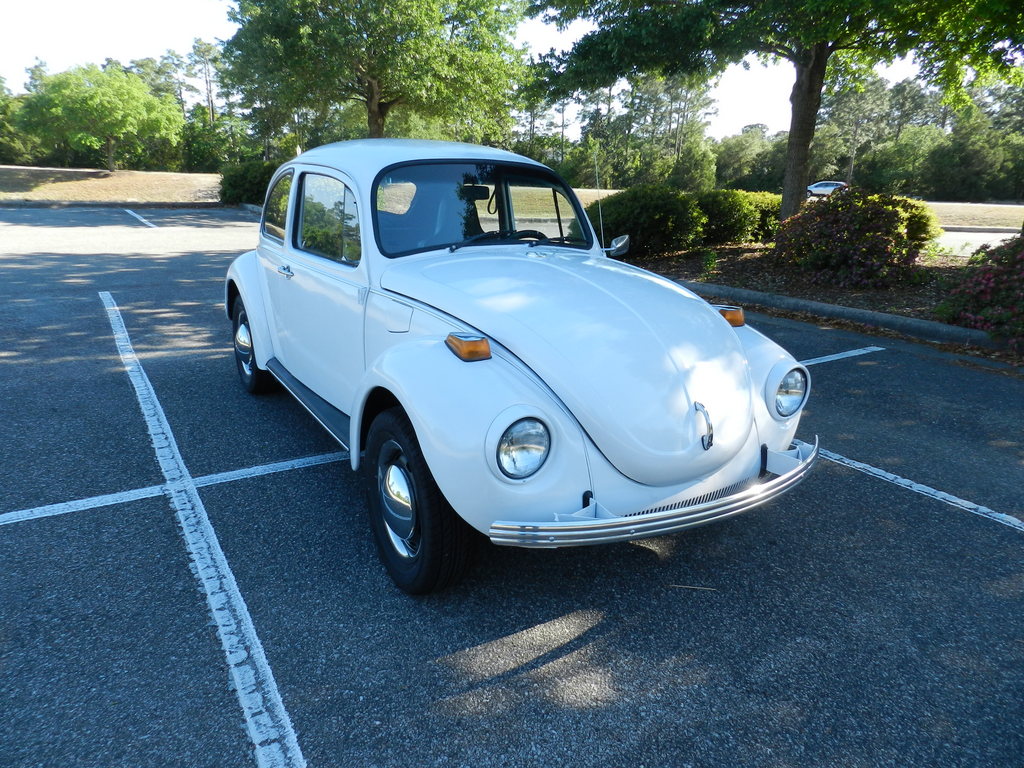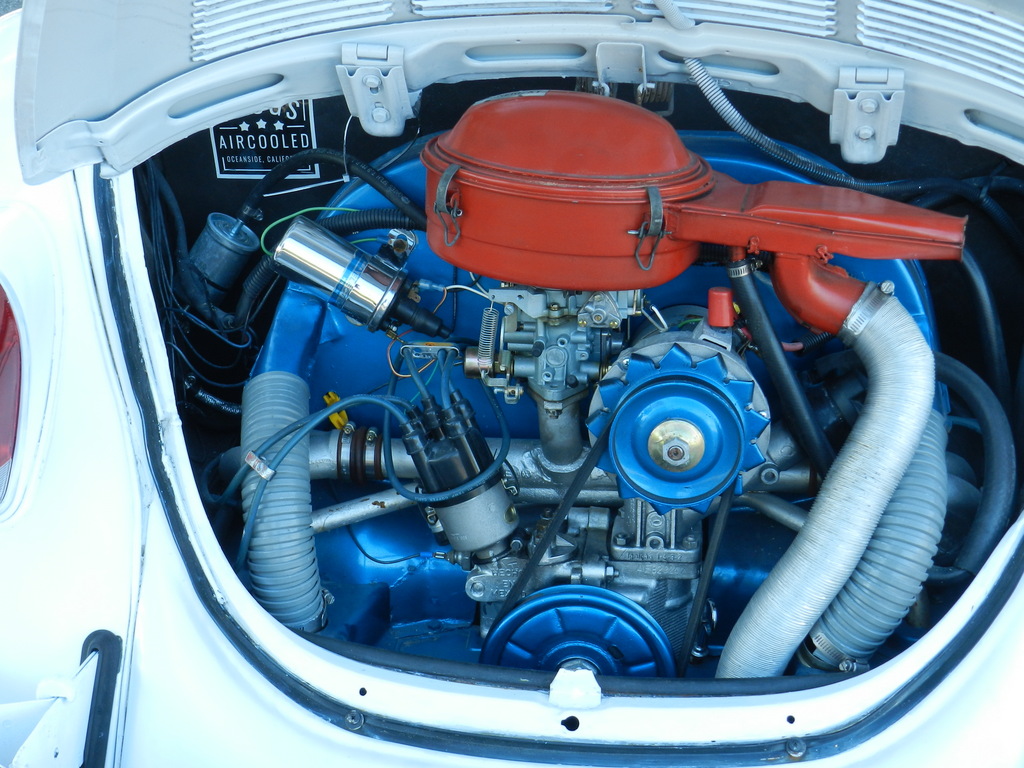 Remanufactured engine details
Air cooled 1600cc, horizontal 4 cylinder opposed four-stroke.
Forged steel machined crankshaft.
Machined iron cast engine block.
Longblock with new internals: aluminum high compression pistons, connecting rods, gaskets, OEM dished camshaft, seals, hi-cap oil pump.
Reconditioned intake manifold, fan shroud w/wide fan, heater boxes, tins.
Compression 146-152 psi.
Fuel, gasoline 92 octane.
Felpro gaskets, all new.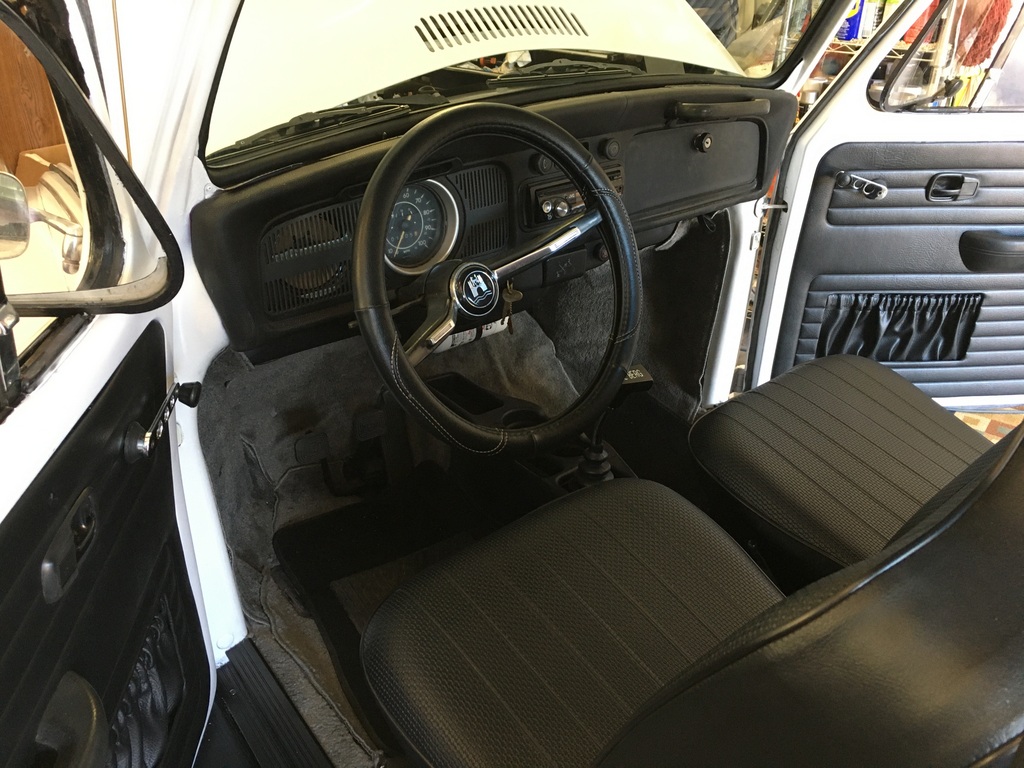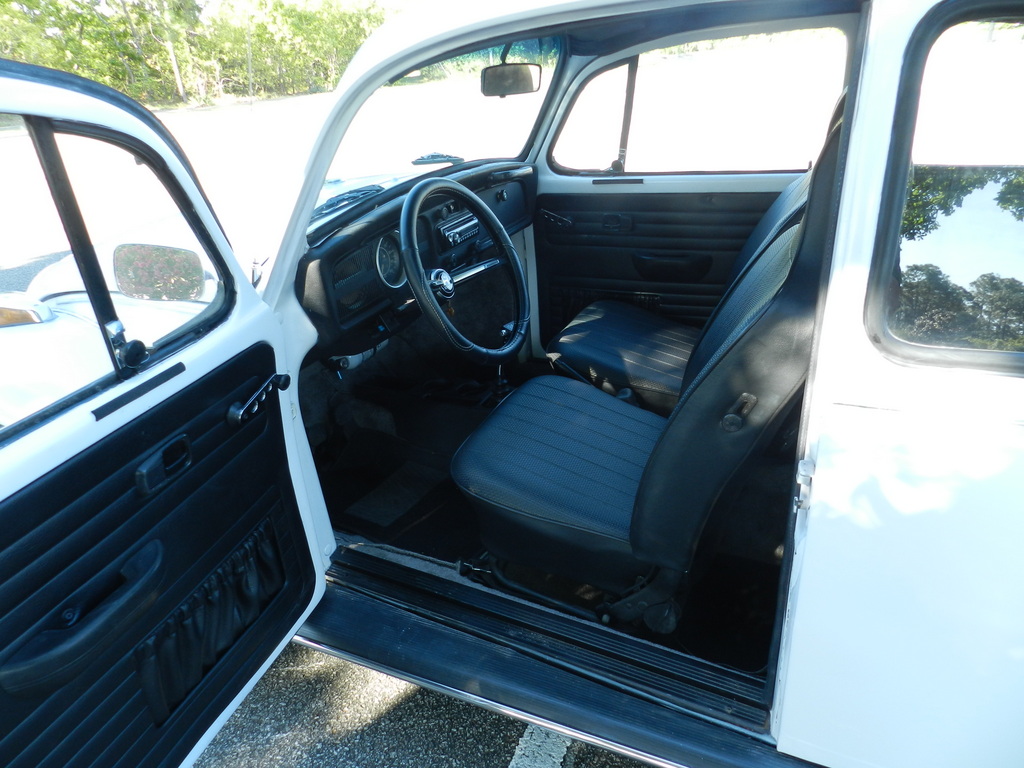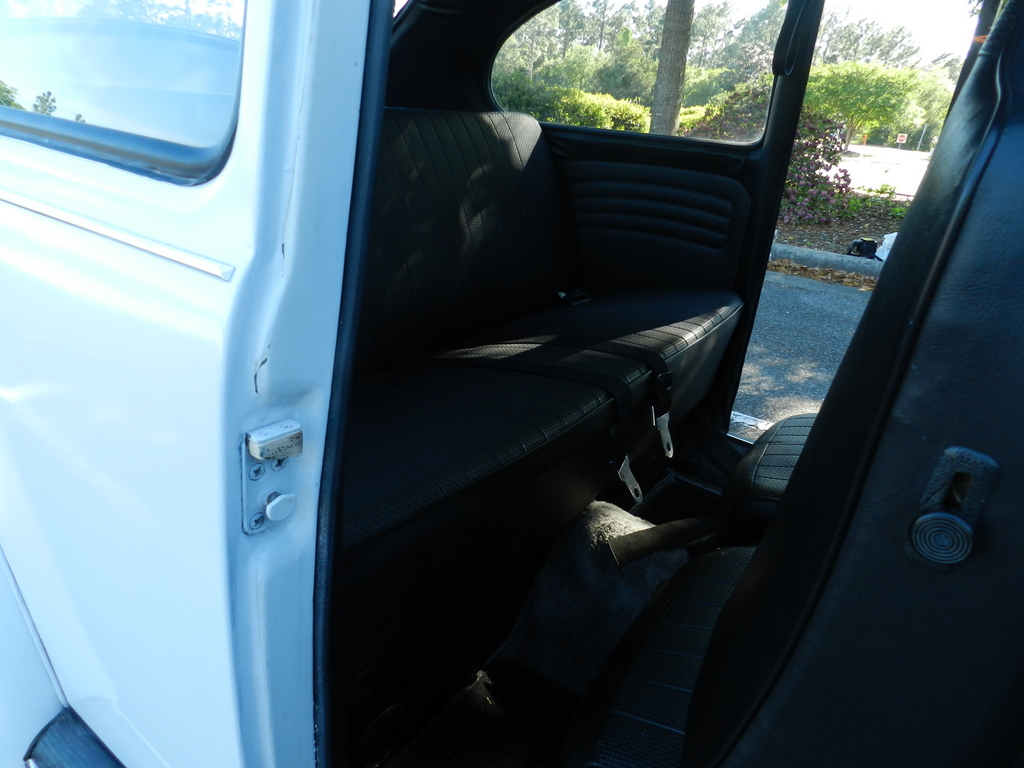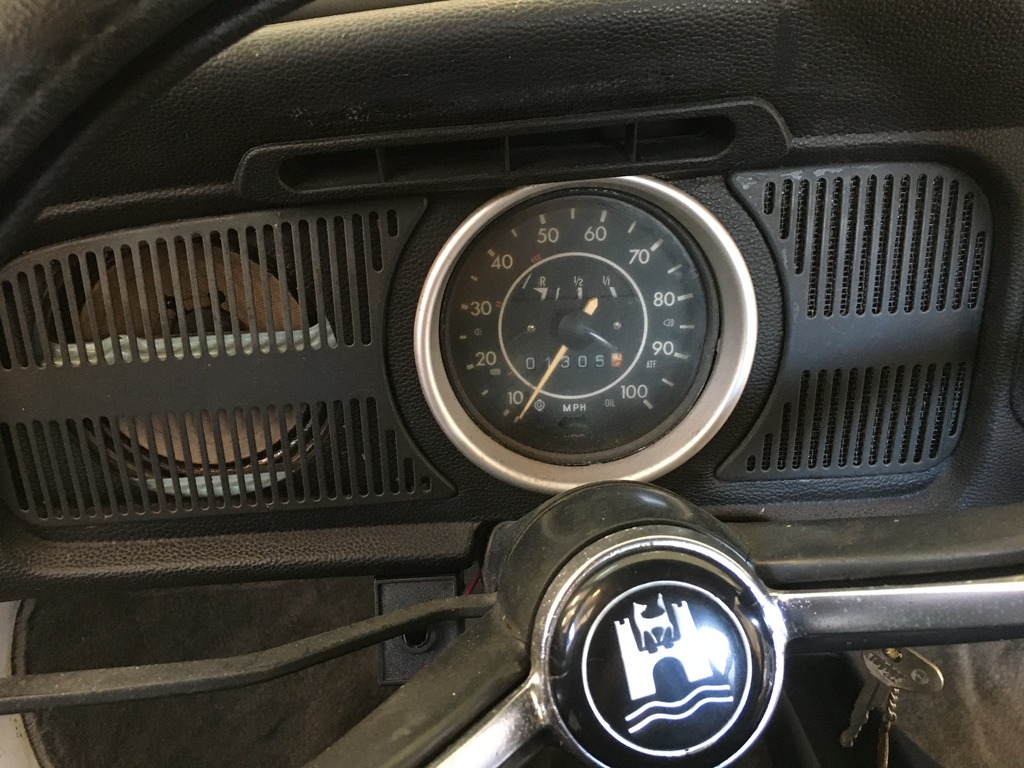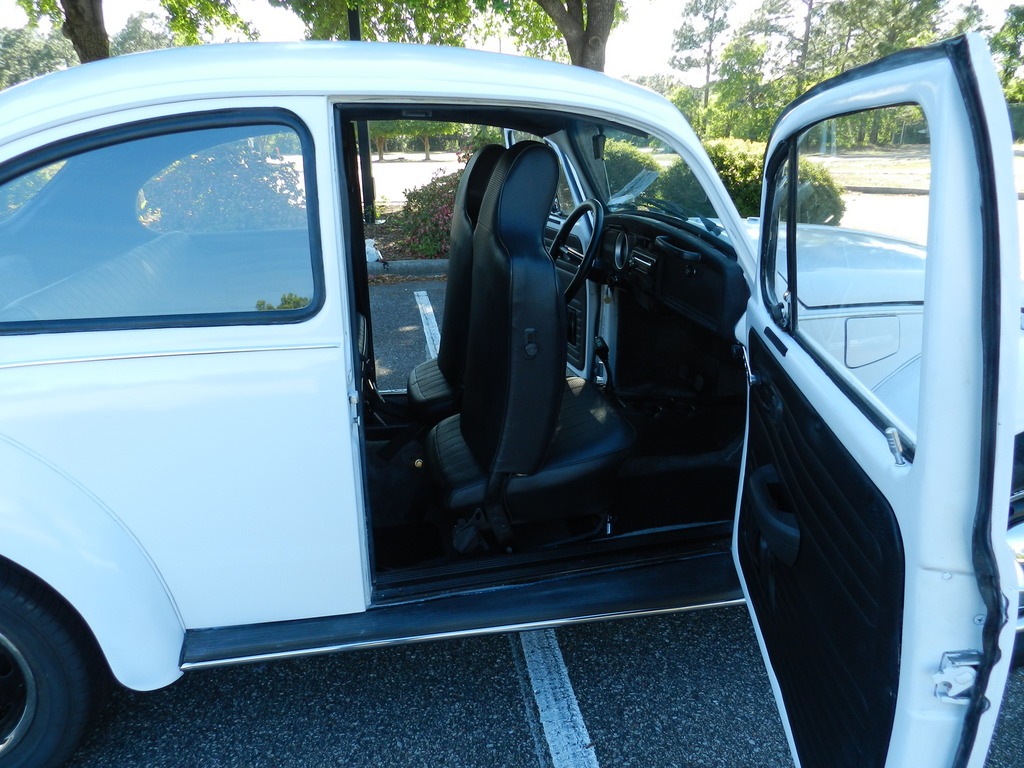 The engine after assembly in 6/2020 at Charvel Machining facility in Laredo TX before shipping for installation in Wilmington NC. We switched out: the Bruck electronic ignition to a Bosch distributor (centrifigul advance), points, and coil; the mechanical fuel pump for a self regulated electric fuel pump. Both items will be included in the sale.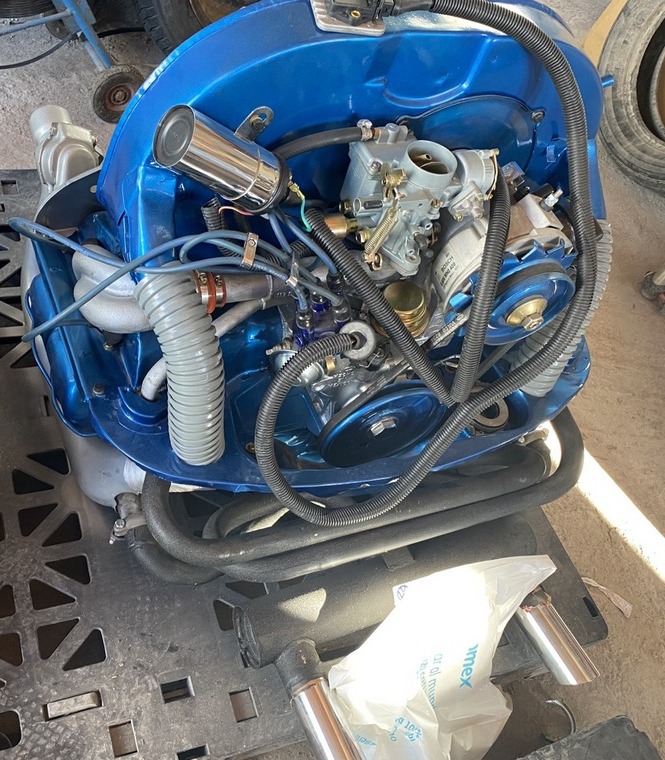 Rear underside view of engine, transaxle, rear axles, and floors . This is a vintage VW with NO FLUID LEAKS, not gasoline, brake, transaxle, nor oil.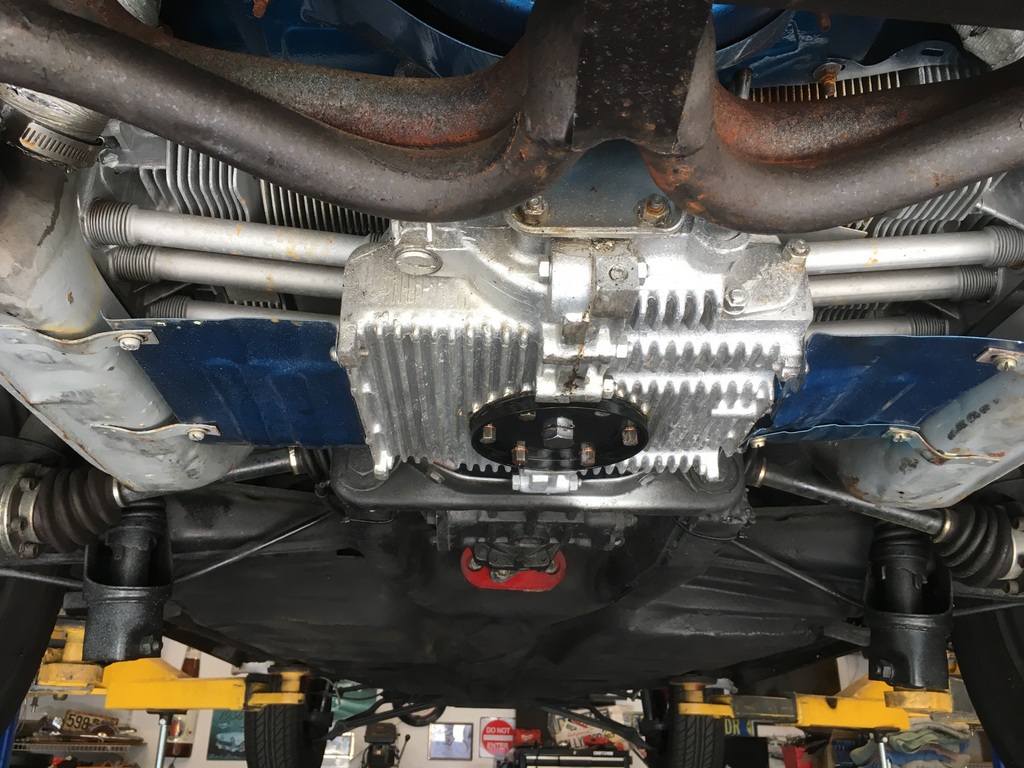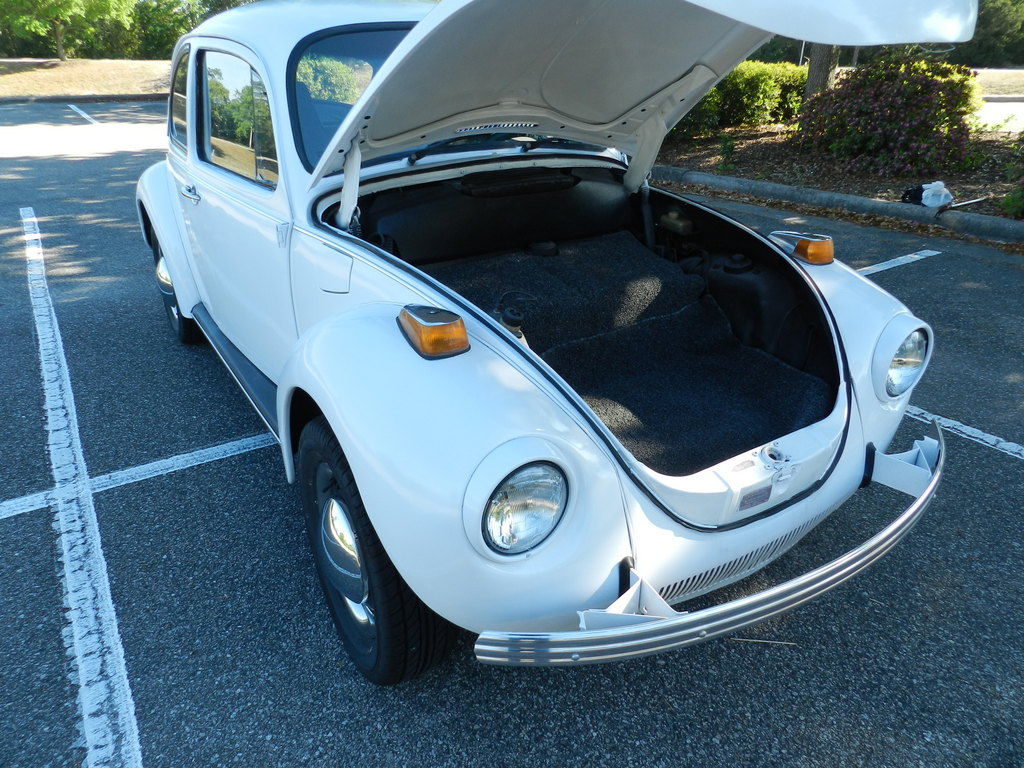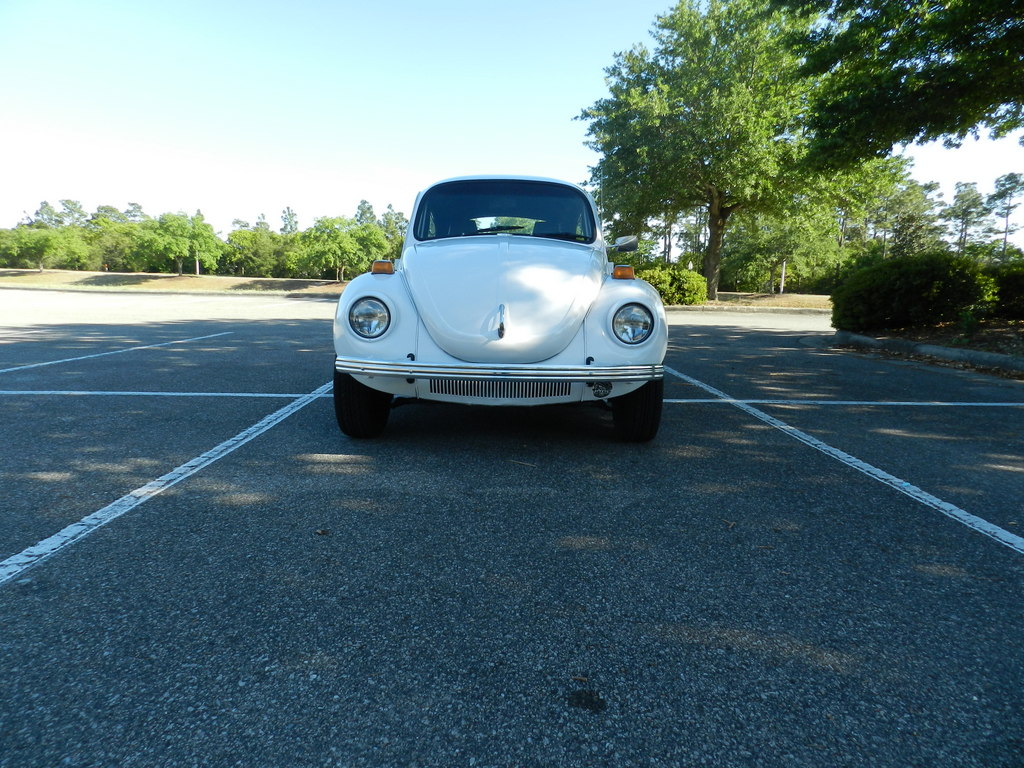 Back To Top