Introduction
This web page presents the rocket car story of the relationship between Slammin Sammy Miller and me, Ron Vigneri, in the time period of 1979 through 1982. The story is from my point of view which is the way it should be seeing as I'm writing it. We were as close as brothers for the time period stated and thereafter never crossed paths again. Looking back it is rather amazing realizing the engineering advances that came out of a two-car garage in Wayne, New Jersey and a barn in Kinnelon, New Jersey. Being that there is only a small group of private parties involved with high concentration hydrogen peroxide, we certainly always heard from others what each of us was doing through the following 20 years. If Sammy hadn't been killed in an oilfield accident, I am sure he would not factually dispute anything stated herein. I will have something to say about Sammy's death later on in this article.
Rest In Peace, Slam'n Sammy Miller, it was quite a ride!
Here is the YouTube link of the TV program "PM Magazine" video of the Guiness World Ice Speed Record set in 1981 on Lake George, New York
https://www.youtube.com/watch?v=mQMRYnEKm78
The Beginning
The following Raceway News cover copy (circa 1979) shows Sammy Miller in the Vanishing Point rocket car before we got together on improvements. The 1/4-mile and 1/8-mile speeds and elapsed times are indicated on the Chrondek timers for two runs using different quantities of the 90% hydrogen peroxide "fuel" (actually oxidizer). These activities took place before Sammy and I became associated. After the propulsion system improvements we incorporated over the next 1-2 years, our rocket cars performed at significantly higher speeds. Think about it, 360 mph in 3.94 seconds over the 1/4-mile and 319 mph in 2.5 seconds over the 1/8-mile about 30 years ago! Sammy had balls!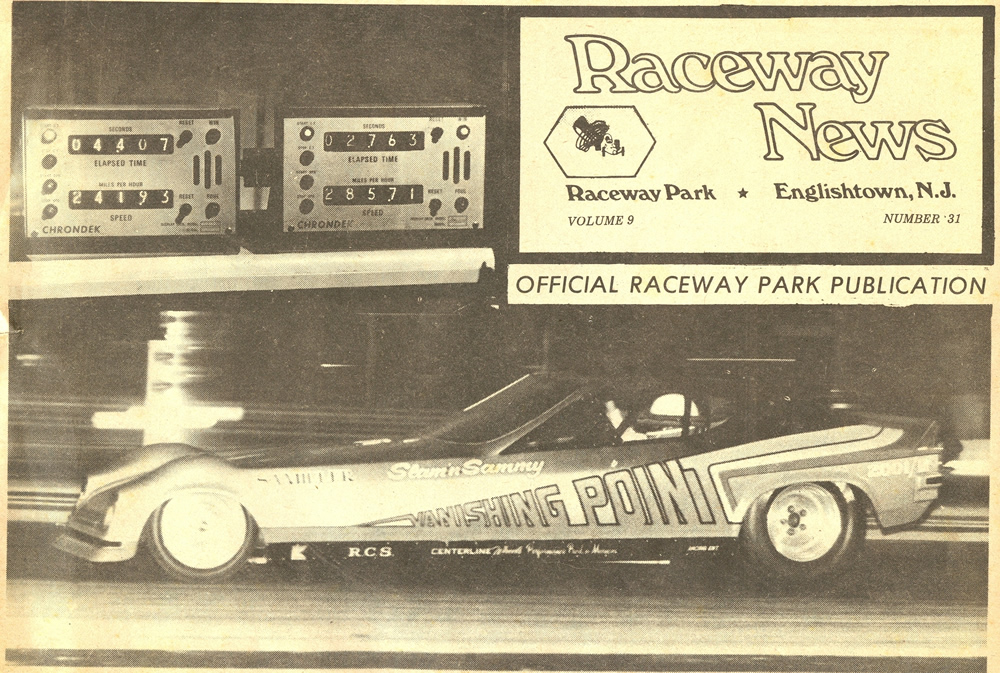 Front page stuff circa 1978-79.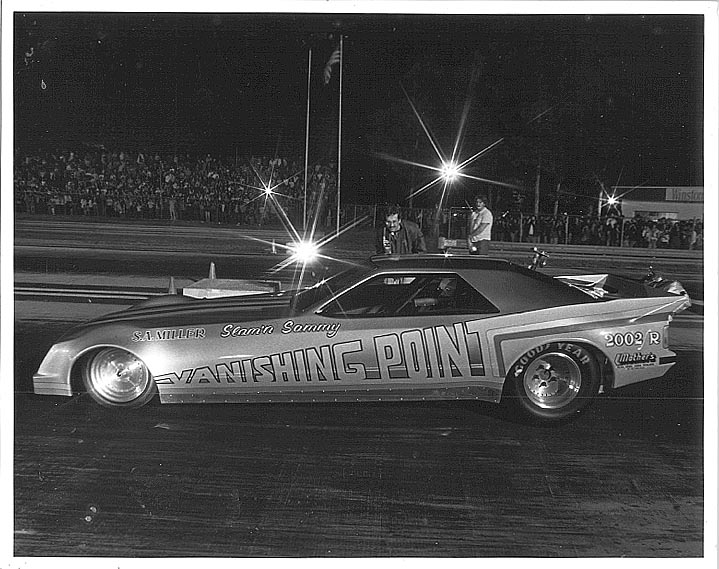 Vanishing Point circa 1978-79.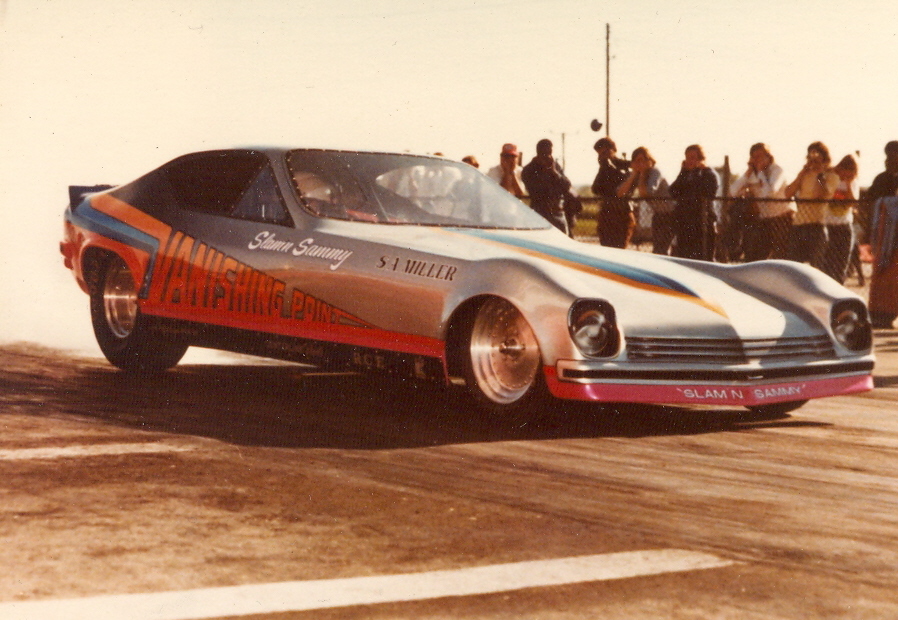 Vanishing Point (Vega version) at the time the author met Slam'n Sammy Miller, circa 1979-80.
The Story
Rocket Cars and Slam'n Sammy Miller – Setting the Guiness World Ice Speed Record
By Ron Vigneri
Now for the story of the setting of a Guiness Book World Record for the Fastest Speed on Ice. In working with Sammy and George Garbodden (GG Industries) on the Vanishing Point rocket cars, I started searching for a speed record that the New Jersey corporation that Sammy and I formed as equal partners, Rocket Man Inc., could break. Our grand plan was to build a land speed record car after we attained enough credibility to attract some big sponsors. In order to do that we needed a record we could point to and break.
My great friend, Bob Ferguson, owned a substantial paving business that subcontracted work to S. A. Miller Contruction, Sammy's father's construction company. Fergy and I had been building and drag racing cars as teenagers back in the late '50s. On June 4, 1980 he took me to Raceway Park, Englishtown, New Jersey to see Vanishing Point run. He knew my history as a former Bendix project engineer on the Saturn Rocket and Pershing Missile guidance systems. I had been educated on rocket propulsion by the Army Missle Command and NASA as an engineer in the Navigation & Control Division at Bendix. Sammy had spoken with Fergy about wanting to improve his rocket car performance to move up in bookings and make it financially worthwhile. Fergy introduced me to Sammy and his then beauty-queen girlfriend from Sweden, Annika Blohm.
Sammy and I hit it off immediately, discovered we lived close to each other, had birthdays two days apart (April 15 and 17), and had physical, personality, construction background, car building, and hydrogen peroxide chemistry similarities along with great mechanical insights. We started a rocket car design review on June 5, the day after we met. Sammy was not an educated engineer, but had an innate feel for the mechanical, automotive, plumbing, and chemical elements that make up a rocket car. He was imaginative and loved trying new things. I had a formal education in Electrical Engineering (MSEE, stopped 12 credits from a doctorate) and had assigned inventions to Bendix Corporation including the Laser Gyro and Electronic Tachometer. You can check me out on Google, just enter "Ron Vigneri" and "Ronald Vigneri" in search engine. George Garboden (GG Industries) had supplied most of the rocket system engineering and fabrication, and Tom Daniels (Speed Unlimited) had designed and fabricated the chassis parts for Sammy's cars (two named "Vanishing Point', Vega and Mustang versions), and a new slingshot car in the early stages of planning (later named "Oxygen"). I built and owned American Tennis & Country Club in Kinnelon, New Jersey, was the Head Pro there, and was very active in the local and national tennis business community. Sammy had the courage and ego to be a great driver, we both loved hydrogen peroxide chemistry, and I had the engineering and business background to form a strong partnership and a corporation, Rocket Man Inc. Working in New Jersey out of Sammy's mother's garage in Wayne and my barn in Kinnelon, we were ready to conquer the world of rocket cars. Later, our speeds were a major factor in the NHRA banishing the rocket cars from sanctioned drag strips in 1982.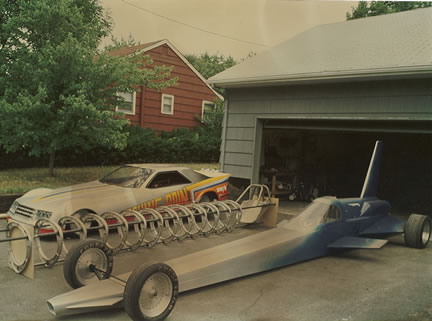 On the driveway outside Miller family garage in Wayne, New Jersey in Summer 1980.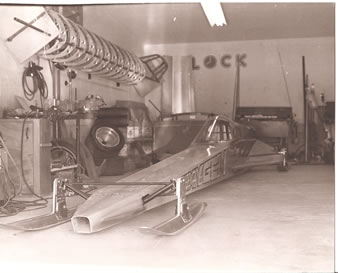 Inside garage in Wayne, December 1980 with sheet metal machines in back of Oxygen and beginning of LSR frame hanging on the wall.
Over the next few weeks, many improvements were made to the rocket system in all the cars and performance on the track was improved significantly. Subsequent trips to a Jamesbury Valve distributor and to a surplus outlet on Canal Street in New York City for some new parts followed. Changes were made and tested with improved performance and safety. George Garboden came out from California and stayed at my house while we worked on the cars and BMX bicycles. Sammy's father had bankrolled a company building BMX bikes, Speed Unlimited, which built the "Thruster" series of bikes. Original Thrusters still are sought after today and command high prices. While watching TV with Sammy and Annika in my family room, I envisioned and sketched a bike frame idea on an envelope. I had invented a novel bicycle frame that could be built without assembly fixtures (no tubes into the side of other tubes) to hold frame pieces together for welding. With George, the first "Phazer" was built the next day with chrome-moly tubing. It was first publically displayed at the auto show with Oxygen (see side lettering) and very well received. Here is the Phazer bike link: https://ronvigneri.com/phazer.htm. It was too bad that we were too busy bring a volume to market. After the end of Rocket Man Inc., Sammy and Henk Vink were building and selling my bike design in Europe as a Miller invention. But that's another story. Speed Unlimited failed and two Phazers, the Prototype and S/N 3, have new owners in Autralia and California.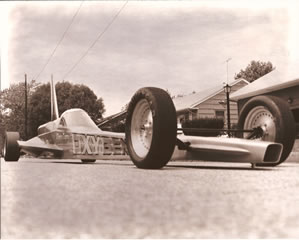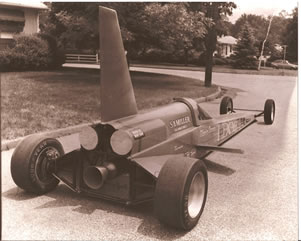 Oxygen nearing completion Winter 1980.
Back to my tale. Contract dollars greatly increased for gigs in the US, Canada, England, Germany and Sweden. Formal appearance contracts, insurance policies, and effective marketing particulars were implemented, along with formal procurement and accounting procedures. But over the Summer and into the Fall of 1980, it was apparent that there was no pot-of-gold at the end of the rocket car rainbow. We figured that the only way to make any real money was to get to a Land Speed Record (LSR) effort with some big sponsors. Sammy's father had passed away encouraging Sammy to seek the LSR. The LSR car was partially designed and chassis fabrication (rails and bulkheads) had been started. In fact, after my invention of a patent-applied-for hydrogen peroxide based oil well treatment system and Sammy welding up the LSR parts without waiting for the laser alignment parts I had rented, I withdrew from further rocket car endeavors together by the end of 1982. And history shows that pretty much ended any significant rocket car gigs for Slammin Sammy. Actually, we later ended any association in a courtroom battle over my patents after Sammy joined Chris Nickos (an alias) in oilfield scams that later sent Nickos to prison for more than eleven years. But that's another story.
Anyway, in the Summer of 1980 upon looking at speed records listed in the Guiness book, we found that the ice speed record was held by an ice boat at about 174 mph. With the rocket propulsion not requiring any traction to move across ice, the main factor was to design control surfaces for the car to make sure we could control the vehicle on the slippery ice surface. Our new dragster-based rocket car was nearing completion and my idea was to use skis on all four corners, which I consulted with Aero Ski Manufacturing on design and to produce. Sammy, Gray Kent and I designed and fabricated the wheel hub adapters and mounted the skis right after the new rocket dragster, named "Oxygen" returned from track testing on wheels. The scroll screen rocket motor installed produced about 8,000 horsepower. Oxygen was almost completely built in the two-car garage of Sammy's mother's house in Wayne, New Jersey. Just a typical middle-class suburban neighborhood, but with some really interesting activity for the neighbors to observe.
Oxygen staged for speed record run on the ice with thousands of people spread along on both sides of the 2300' long course, 3/15/81.
The discussions in the pit lead to some engineering design modification suggestions for the 1979 "Vanishing Point" (Vega version) hydrogen peroxide fueled funny car that Sammy thought had merit, particularly the pointing out that the peroxide transfer pump being used was not compatible and a hazard. At the invitation by Sammy, the author visited Sammy's garage at his Mother's house in Wayne, New Jersey. The visit became a complete engineering review including consultations with George Garboden (G&G Industries, Laguna Hills, CA). Rocket Man, Inc. was incorporated in New Jersey in 1980, co-owned by Sammy Miller and Ron Vigneri.
A rocket engine of a radial screen catalyst design, rather than the traditional packed disk design, was installed with the ability to produce the equivalent of 8,000 horsepower at about 600 psia inlet pressure with 90% concentration by weight hydrogen peroxide. George had built the engine and the author's design review found no reason to change anything. It was a great design. Fuel delivery changes included two new Jamesbury ball valves for throttling which were configured in series per NHRA Rocket Car design regulations. Dissimilar metal plumbing fitting connections were corrected along with fuel pressurization system improvements including porting and polishing of the Marotta Domed Regulator. Numerous other improvements were introduced.
The improvements to Vanishing Point were immediately apparent at an exhibition at Hollywood Speedway in Hollywood, Florida. Vanishing Point turned 319 mph in 2.5 seconds in the 1/8 th mile and 360 mph in 3.94 seconds in the 1/4 th mile. The first sub-four second quarter mile ever run was by Sammy. Rocket Man, Inc., now had the technology to attract a lot of attention.
Just an aside, Vanishing Point was named not after the movie of the same name, but because it was so fast that trackside crowds would see the car at the start line, hear the blast of the rocket engine, and the car would "disappear" down the track.
Rocket Man defined a goal to set a speed record that could be acknowledged without question. The rocket car game had so many speed record claims that Guiness had stopped recognizing them. The Ice Speed Record was recognized to be 148 mph. We knew we could safely break that record with what we had in development. A new car of slingshot design was completed in the Miller garage. George Garboden machined and welded most of the rocket propulsion system with Tom Daniels of Speed Unlimited plus others designing and building the chassis. Body fabrication, assembly, and paint involved a number of craftsmen.
Through Ross Ardman, a well-connected sporting goods distribution representative, sponsors were found for the gig. "Rooster Magazine", which was published to compete with "Playboy" and "Penthouse", became prime platinum sponsor at $56,000 and Carrera Sports, Thruster BMX and Phaser BMX bicycles, among others were Gold sponsors at lesser amounts. Aero Ski Manufacturing in Minnesota (built aircraft skies) built the 8" x 52" set of skies for the vehicle. Actually, a whole book could be written about obtaining the sponsors. I wrote the Rooster contract on my old IBM Selectric in the NYC offices of Chuckleberry Publishing Inc./Ideal Publications Inc., Seymour Butan, CEO and Erwin Damsky, VP. A few months later, we found out that company officials were involved in Helena Rubenstein and Jackie Collins lawsuits. To collect on our contract, according to legend, the story was that a friend of a friend had to remove a door off a company officer's Mercedes in his locked and monitored garage to "encourage" him to pay up! Rooster magazine only lasted about 6 months, but one issue (5/81) featured the Ice Record presented between some almost pornographic pictorials. The magazine also used my photos without credit or permission. But this whole episode could be another whole story.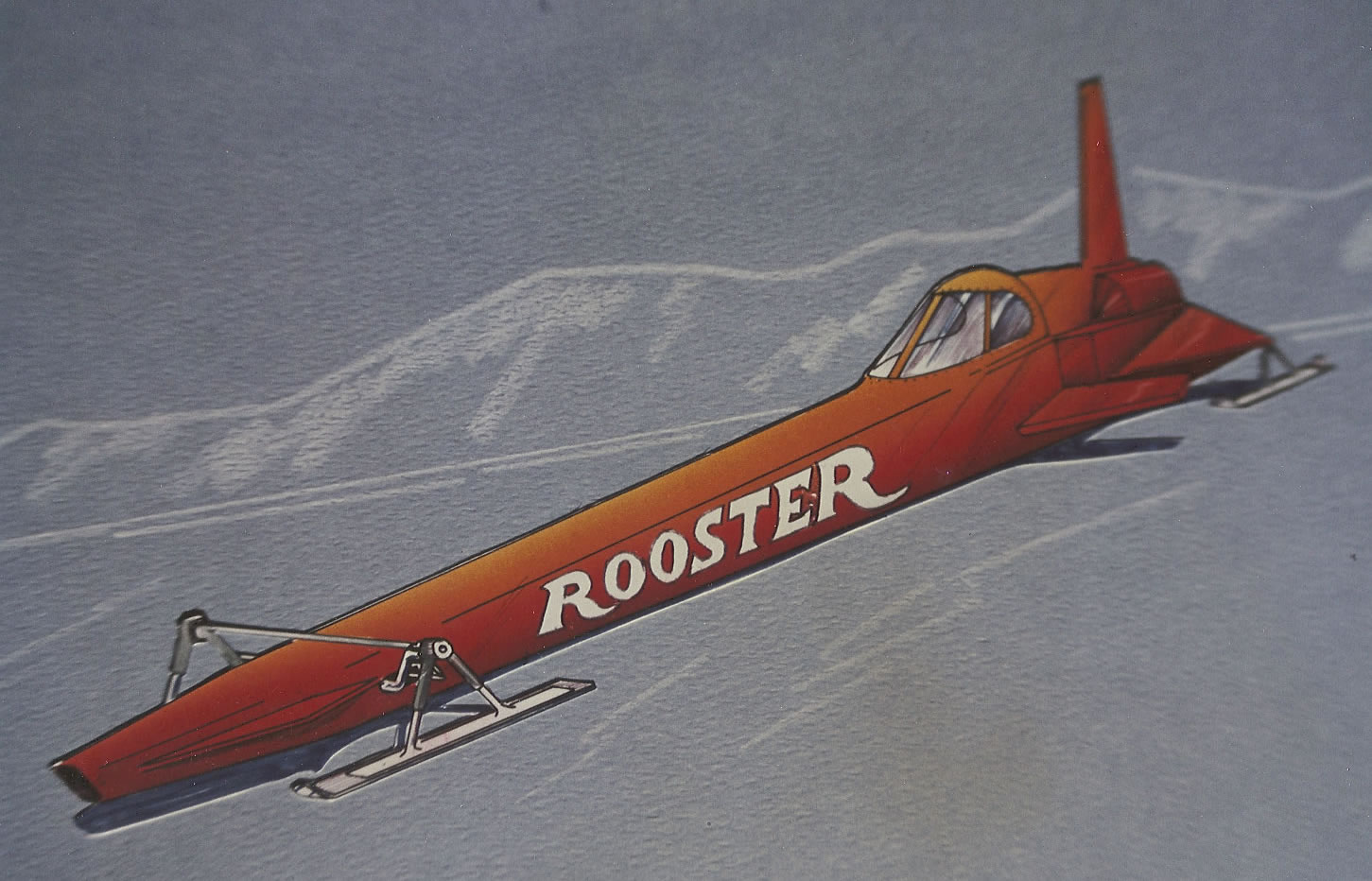 Original concept for the Rooster sponsorship of the new car on skis. Main sponsor selected lower cost option of vertical stabilizer fin logo on Oxygen.
Oxygen was privately tested at Raceway Park on wheels, returned to the garage, and adapters were made to mount the skies. The paint was applied with sponsor logos and we showed the car at the 1981 Auto Show at the Coliseum in New York City. The rocket powered Budweiser Land Speed Record Car was featured in the lobby and Oxygen was the main mezzanine feature. Sammy caught a last minute backup driver contract for the Daytona 500 and missed the show (a situation that would indirectly lead to the dissolution of Rocket Man, Inc. two years later). That story involves the author's invention of the Thermox Process for oil well fracturing and stimulation, which resulted from a discussion about the 1978 oil embargo and Conoco steam stimulation ads appearing on TV with an oil well owner (Chris Nickos, real name Christopher Netelkos) at the auto show. If Sammy had been present, I am sure I would have included him if he would have contributed to the US Patent Application which I wrote that night and filed through my patent attorney, Art Jacob, the next day. Then he would have been a named inventor. But he wasn't there, had nothing to do with the origination of the idea, and I performed all the engineering analysis and design of the Thermox Process system. The blow to his ego was that he was not named on the valuable patent based on hydrogen peroxide technology, and that was another factor which directly led to the breakup of our partnership some 2 years later in contentious legal proceedings. I thank Bill Morrison of Hohokus, New Jersey, my excellent attorney and great friend over many years for his great counsel and support through numerous legal adventures.
The oil well discussion focused on my presentation that better steam could be produced from a hydrogen peroxide rocket (superheated steam and oxygen exhaust) than from classical steam generators that were being applied to oil wells. In fact, with the high energy gas that could be produced by a hydrogen peroxide gas generator, both oil and gas wells could be stimulated or fractured. That conversation led to the development of a high temperature, high pressure hot gas, hydrogen peroxide injection system for fracturing and stimulating oil and gas wells which I invented. After many court cases and scams, improperly applying that technology led to Miller's death on an oil well in West Texas some 20 years later. The last verbal conversation I had with Sammy was leaving Passaic Court Courthouse in Paterson, New Jersey and cautioning him that the oil well system was more than he could handle by his "seat-of-the-pants" engineering even though I had given him a license to use my first patent as part of our final settlement. Again, that's another story. I used to kiddingly call him, "Serendipity Sam" during our years of association because of numerous instances of his phenominal luck in avoiding physical and/or economic diseaster. Serendipity ended on that West Texas oilfield on 10/29/02 under whatever he was doing in the business name of Applied Force, Boonton, New Jersey. But I digress.
Upon arrival at Lake George, a 2,300 foot runway was plowed on the thick ice. The author and his wife, Joanne, surveyed and laid out the course which was set for a 500 foot length with a 100 foot long timing section for the IHRA time trap. Sammy said it was the smoothest surface ever provided to him. On 2/10/81 we made a test run on about 90 miles per hour. At the below zero air temperature in the Funhouse in which Oxygen was stored the night before, the parachutes had frozen in and did not release. George had rigged a drag cleat that Sammy could deploy at under 50 mph (speed below which the chutes were ineffective). Sammy used the whole length of the runway stopping length (about 1,800') stopping the car. George Garboden rigged a pair of 12-guage barrels (see red clored tubes in picture below) to shoot 12-guage shotgun slugs tethered to the two main chutes to assure release from their nesting tubes. The mechanism fired the shells when Sammy hit the control switch. The author rigged a third emergency chute which could be released by Sammy pulling a clothesline cord run into the cockpit.
Before we had left New Jersey, Gray Kent, Sammy, and I added open steel channels to serve as runners attached to the underside of each ski for steering. If Sammy had to turn, he needed an edge to cut into the ice, the plain skis underside would not have steered Oxygen. I added a bungee cord that was stretched between the front ski tips to reduce ski chatter from steering rack and pinion clearances (almost gave Oxygen some "toe-in"). With wheels the somewhat sloppy steering was not a problem, especially just going straight. But with the skis it was a different story. Basically, we aimed him at the start line and did not intend to have him steer, but you never know what can happen. The cunards (small side wings) were intended to help with down pressure on the rear end because under thrust (rocket motor operating) mostly the front of the car is loaded, especially with the rocket motor tilted down 1.5 degrees to keep the car from flying! The "nitrogen" tank was pressurized overnight using a compressor for scuba tanks, so it was a filtered air mix that pushed the hydrogen peroxide into the motor through the check valve and throttle valves. Two throttle valves are used for safety, and because thay are ball valves, the balls are drilled and a small manifold with a manual drain valve drains the flow hole in each ball of residual peroxide. Otherwise, some bad things can happen with trapped high strength peroxide.
The hydrogen peroxide reacts catalytically in the combustion chamber upon contacting the samarium oxide coated, silver plated nickle screen material. The liquid peroxide expands almost instantaneously into gas (superheated steam and oxygen) and is pushed through the nozzle to develop the thrust that poweres the vehicle. The volume expansion can be as high as many hundreds to one for 90% H2O2. The exhaust gas temperature is about 1364 degrees F at typically 2,200 feet/second. That is why we had to always warn people to keep out of the exhaust stream up to 100 feet back. Instead of a round disk catalyst pack, we had designed and built a scrolled screen design. That was our secret weapon and why the Rocket Man Inc. cars were so much faster than any others. Until the surviving Vanishing Point and Oxygen were sold, that was kept secret by all of us. In fact, it is amazing how secret it remained for many years.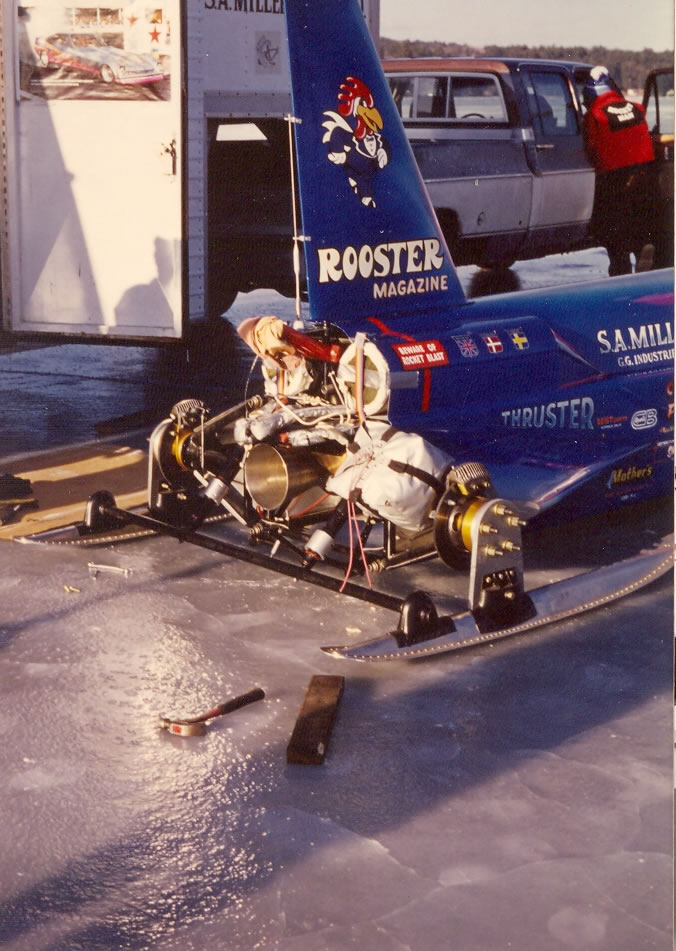 Working end of Oxygen showing rocket nozzle, chute deployment tubes, safety chute, ski mount adapters, ski stabilizer setup.
Citizens band radio gear from Radio Shack was utilized for communication with Oxygen, crew, event personnel, and timing officials. I rigged an open mic and small speaker into Sammy's helmet. Our INA insurance policy was provided by Jim Hanlon of Hanlon & Griggs and was a fully earned $5,000 premium 7-day term $1,000,000 liability policy. George Muraski of Burkar Associates provide the $500,000 Firemans Fund Performance Bond. Volunteer spotters were assigned to locations to observe any plane landings or vehicle activities on the lake. Lo-and- behold, just at the time of the start of the final run a plane made an approach just off the end of the runway, but must have seen the crowd on the ice and pulled up. Other volunteers from the Winter Carnival committee were assigned crowd functions.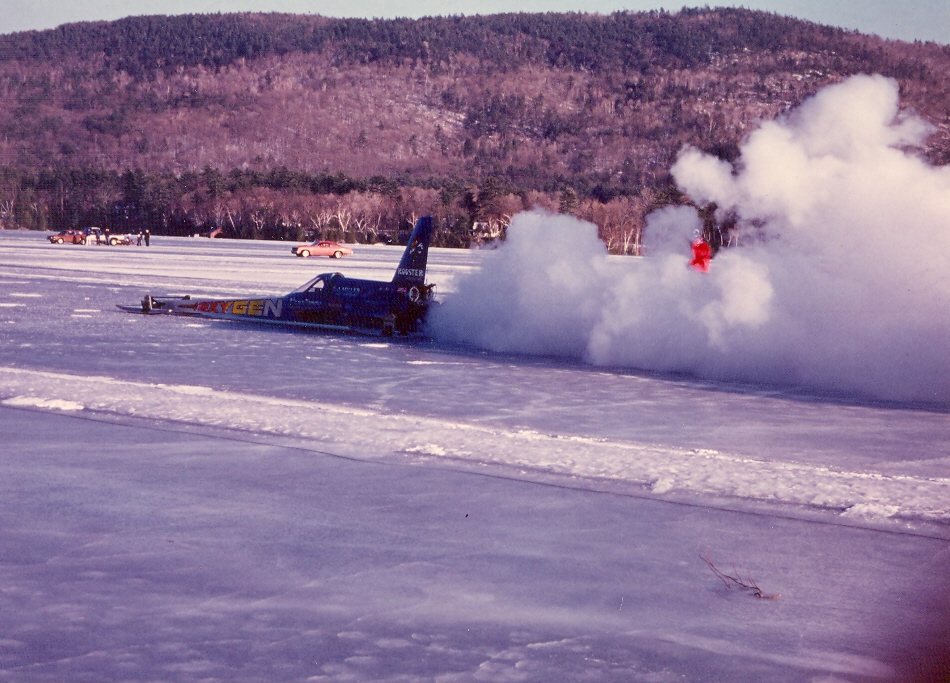 First test run on the ice at Lake George at 5 degrees Fahrenheit, went 90 mph and took about 1500 feet to stop after chutes didn't deploy (frozen in).
The rest of the week was spent on radio and TV appearances to hype the event up to the first record pass on Saturday, 2/14/81. However, on the Wednesday of the week it rained heavily and a dip formed about midway in the timed 500 foot section of the track. Using an optical transit level to determine the uphill side of the dip to be about 1.5 degrees which equaled the downtilt of the rocket engine in Oxygen, we had cause for concern. We certainly didn't want to fly Miller in front of the 20,000 spectators expected for the record run. So we calculated a range of fuel loads and inlet pressures that would set a new speed on ice record and not launch Oxygen. Our initial goal was to run 300 mph, but calculation showed we should limit the speed to 250 mph because of a "belly" in the ice about 200' from the start. The rocket is tilted about 1.5 degrees "down" loading the front suspension during rocket thrust production. The 250 mph would still almost double the existing record speed. The plan became to run about 200 mph on the Saturday pass, check our calculations based on that result, and go for 250 mph on Sunday, 2/15/81.
It was a very cold, very dark midnight in Lake George, New York in February 1981 when Sammy Miller, George Garboden, the Author, and crew left the local funhouse, "FunWorld", after unloading and prepping Oxygen for the night. We had trailered the rocket car with the Rocket Man, Inc., entourage from Wayne and Kinnelon, New Jersey to Lake George to set a Guiness Book of World Records speed on ice record during the annual Winter Carnival event. We headed for the "Broadway" restaurant owned by a former New York Titan football player. It became our "headquarters" for the week at Lake George. We all stayed at Green Mansions, a neat resort a short distance away, all arranged by Ross Ardman.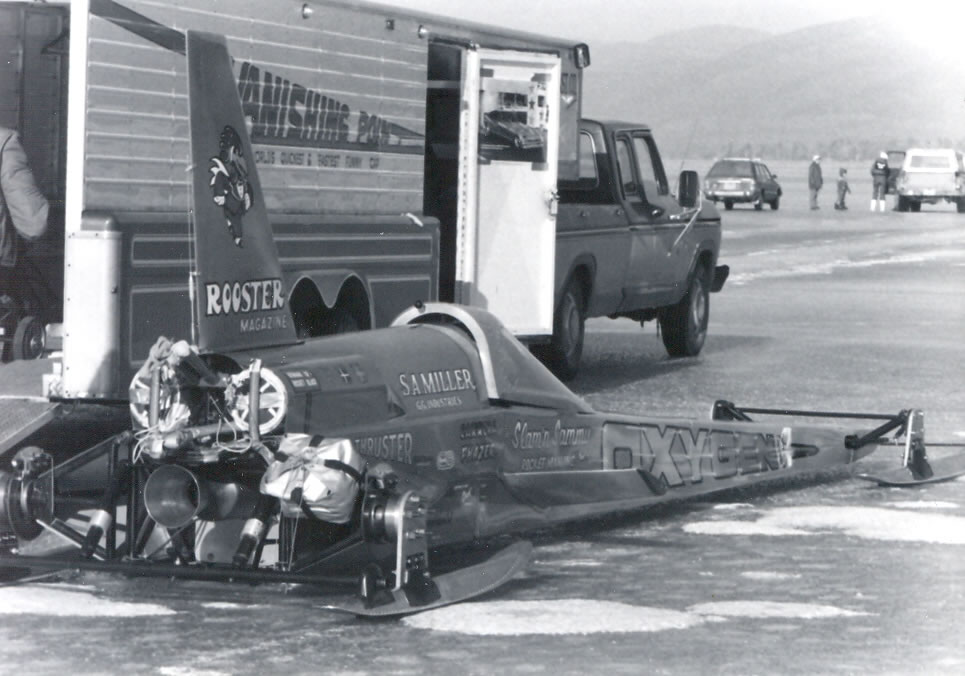 Oxygen on skis ready to run on the ice.
The crew of "PM Magazine" of WNEW Channel 5 out New York City, a nationally syndicated TV show starring Mike Cerre arrived on Friday. The show had responded to a script by the author submitted to Peter Restivo of WNEW and they decided to feature the gig. The show was very popular then, and they followed and taped everything we did. It was a very celebrity-like week for all of us, especially for Sammy and the author. We were on radio and TV as well as newspapers everyday with Winter Carnival ads, interviews, news stories, show appearances, etc. It was heady stuff even for Sammy. The "PM Magazine" feature was aired nationally and was really well done, but it was shown in an April edition of the show and Winter was over.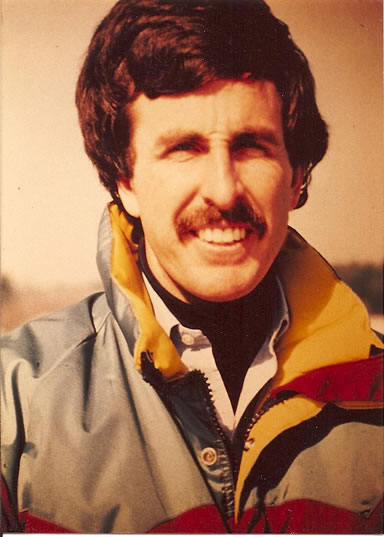 Mike Cerre, the host and star of "PM Magazine" WNEW New York 1981. Great guy that we had fun with at Lake George.
This is how the show came about. I had an idea for a documentary the year before which became a special, "Club Fighter" on WNEW aired on 6/8/80 at 8 PM. I invited my neighbor and close friend, Lou Rose, to a prize fight at Ice World. We went and talked about the bouts and what an interesting story was contained therein. The special features of my story about "tomato cans", guys that fight and bleed on a monthly basis in the fight game. Lou won an Emmy for the cinematography he produced for that show. So I had some credibility at WNEW and wrote a script, reviewed and approved by Sammy, for an ice speed record show. Then it was a search for a location that would allow us to run on ice. I enlisted Ross Ardman to add his marketing and sales talents to finding a location for the stunt. We surveyed and toured many potential locations. When I read an article in a magazine about the Winter Carnival, I called the Police Chief, Clay Beaudet. He invited me to make a presentation at a comittee meeting which he chaired. After the Lake George Winter Carnival committee approved the gig and I obtained the insurance policy commitment, I submitted the script to WNEW and producer, Peter Restivo, liked it and assigned it to PM Magazine.
One other item comes to mind concerning the arrangements for this ice record run. Sammy, Ross Ardman, and I drove up to meet with the Lake George Winter Carnival committee including Mayor of Lake George, Clay Beaudet. I had called him to inquire about the carnival after numerous other venues in New York, New Jersey and Pennsylvania were not as suitable. We drove up in my 1979 Iskenderian Mustang with Sammy driving (whew!) and the meeting went very well. My presentation was really first rate with our track and business history, Oxygen vehicle description, proposed stunt parameters, liability concerns, and Sammy's verbal exchanges with the committee and audience. Sammy could talk to anyone, anytime, anywhere. He presented himself as a regular guy with a great personality. Anyone that ever met him would agree. If he talked to you as Donald Duck, you would never forget it.
We were approved for the February 1981 gig on 12/8/80. After we released national Rocket Man advertising and announcements of the ice record attempt, Ky Michaelson, a rocket car competitor and claimer of all kinds of vehicular speed records (mostly self-proclaimed), wrote a letter to the Lake George Winter Carnival committee on Hollywood Stuntmasters letterhead that predicted all kinds of dangers in Rocket Man performing the stunt. I still have a copy of the letter. Later, Dar Robinson was part of Hollywood Stuntmasters, was dating Morgan Fairchild, was a buddy of Burt Reynolds, knew Johnny Carson, and I was told influenced the cancelling of our appearance on Carson's TV show intended for the week after we set the ice speed record. That was a great disappointment for us. Anyway, the committee recognized the letter for what it was, and I had already obtained an insurance policy commitment with high liability limits plus a surety bond, so Lake George Winter Carnival stuck with us. Ross Ardman brought Carerra on board with ski suits, sunglasses, goggles, gloves, etc. CB Sports, Thruster, Phazer, Deist, GG Industries, Mother's Speed Shop, and Thruster were additional sponsors. Gray Kent, George, Ross, Annika, and my wife, Joanne, comprised our uniformed crew. We looked really sharp and very professional. I arranged IHRA to send Fred Markwalter up from Tennessee as official timer, and I leased timing gear from Chrondek. The timing equipment was certified before and after the event by Chrondek. I still have the certifications. Joanne and I laid out the track start line, 500' finish line, and 100' speed trap with a transit level and 100' tapes. That left 1,800' to stop with parachutes and a drag cleat that George added. IHRA verified the track dimensions and setup their timing lights on the ice. We were all set.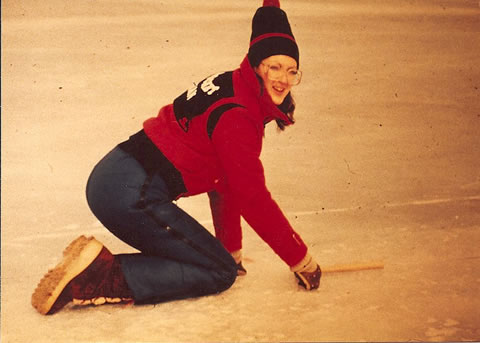 Joanne Vigneri on the ice laying out the track segments.
The crowd on the ice was large and very well behaved. The spectators spread in a fan shape from start to way past the finish line. It was c-cold at about 0 degrees F. First pass was run at 177 mph on 2/14/81 with IHRA timing using Chrondeck equipment in a trailer on the ice. We broke the record, but didn't get the 200 because the air temperature kept the rocket motor cooler at the start than realized, so we decided to heat the engine electrically overnight and perk the engine (pulse it on with shots of peroxide) at the start line more on the next pass on Sunday. The chute deployment via 12-guage shotgun shell went perfectly. The crowd roared from the first perk of the rocket motor to after I announced the speed on a bullhorn, while Oxygen and Sammy were retrieved way up the lake by George and Gray. He was towed back in the car to more roars from the crowd, it was a great day and we hoped tomorrow would be even better as we put the car away in the funhouse, "FunWorld", owned by the Lake George Mayor, Bob Blair.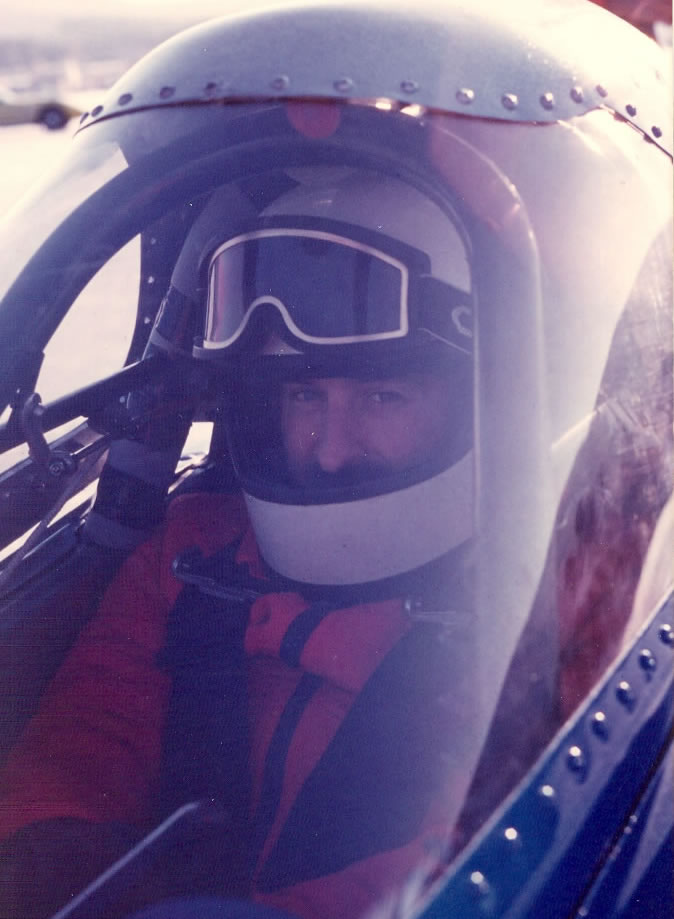 Slammin Sammy in the Oxygen cockpit ready to go before the ice record run 2/15/81.
On Sunday we loaded 28 gallons of 90% hydrogen peroxide, set the inlet pressure to 525 psi, perked the engine 5 times, and treated a crowd of over 20,000 people to a Slamin' Sammy Miller spectacular: officially 0 to 247.78 mph in 500 feet in 1.6 seconds. A Guiness Book of World Records representative was present as were our sponsors. It was a great day with a really big celebration that night presented by Lake George town officials. Sammy had a record no one could dispute for the first time.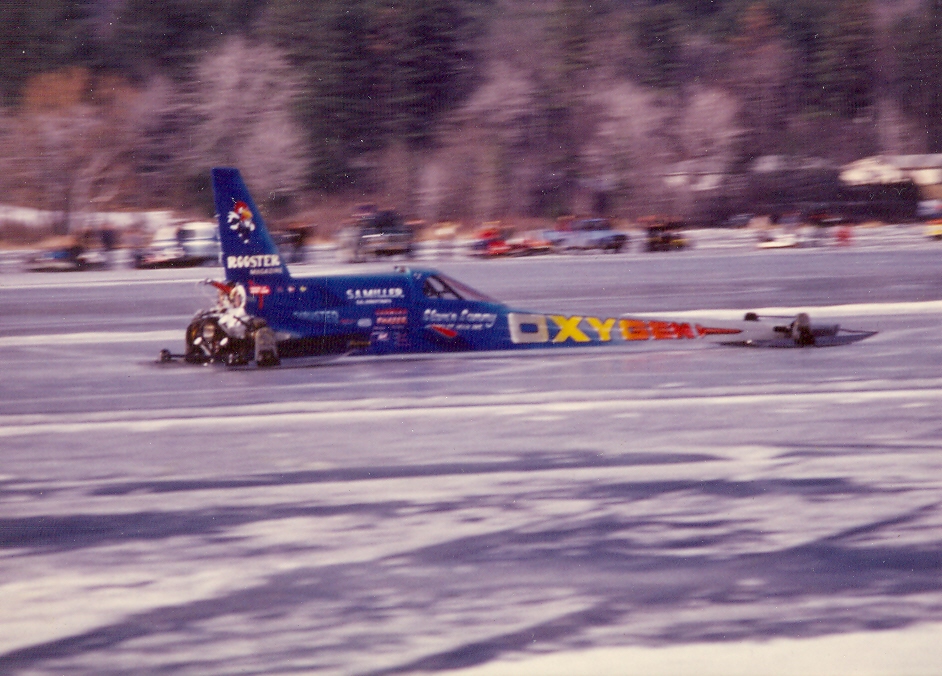 Oxygen at 247.93 mph on Lake George on 2/15/81.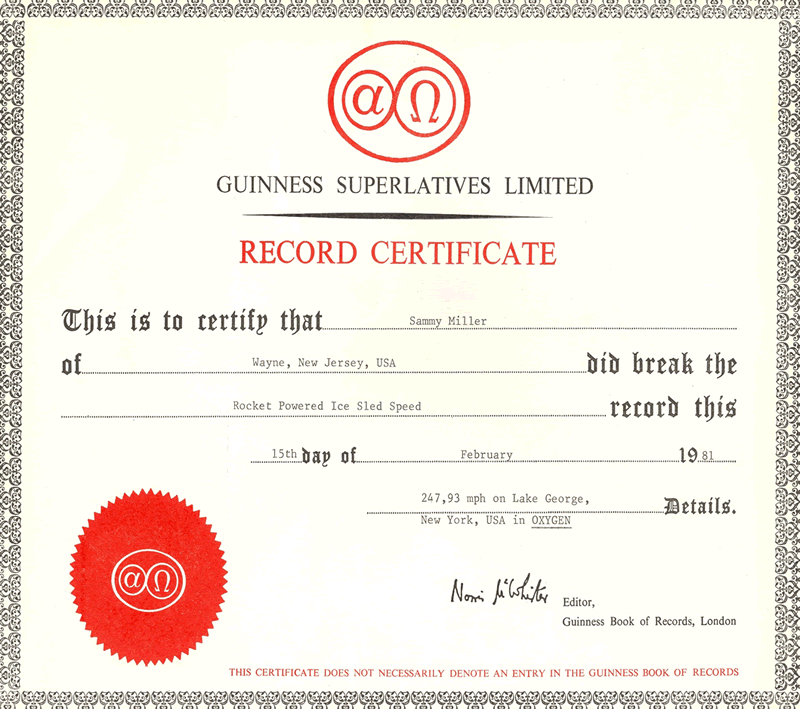 Official Guiness Book of Records certificate from Norris McWhirter. The record appeared in the 1983-1990 book editions with the photo of Oxygen at the start line before the record run.
It is still the Guiness record, but the book since the Norris McWhirter era has become rather lame in the categories presented.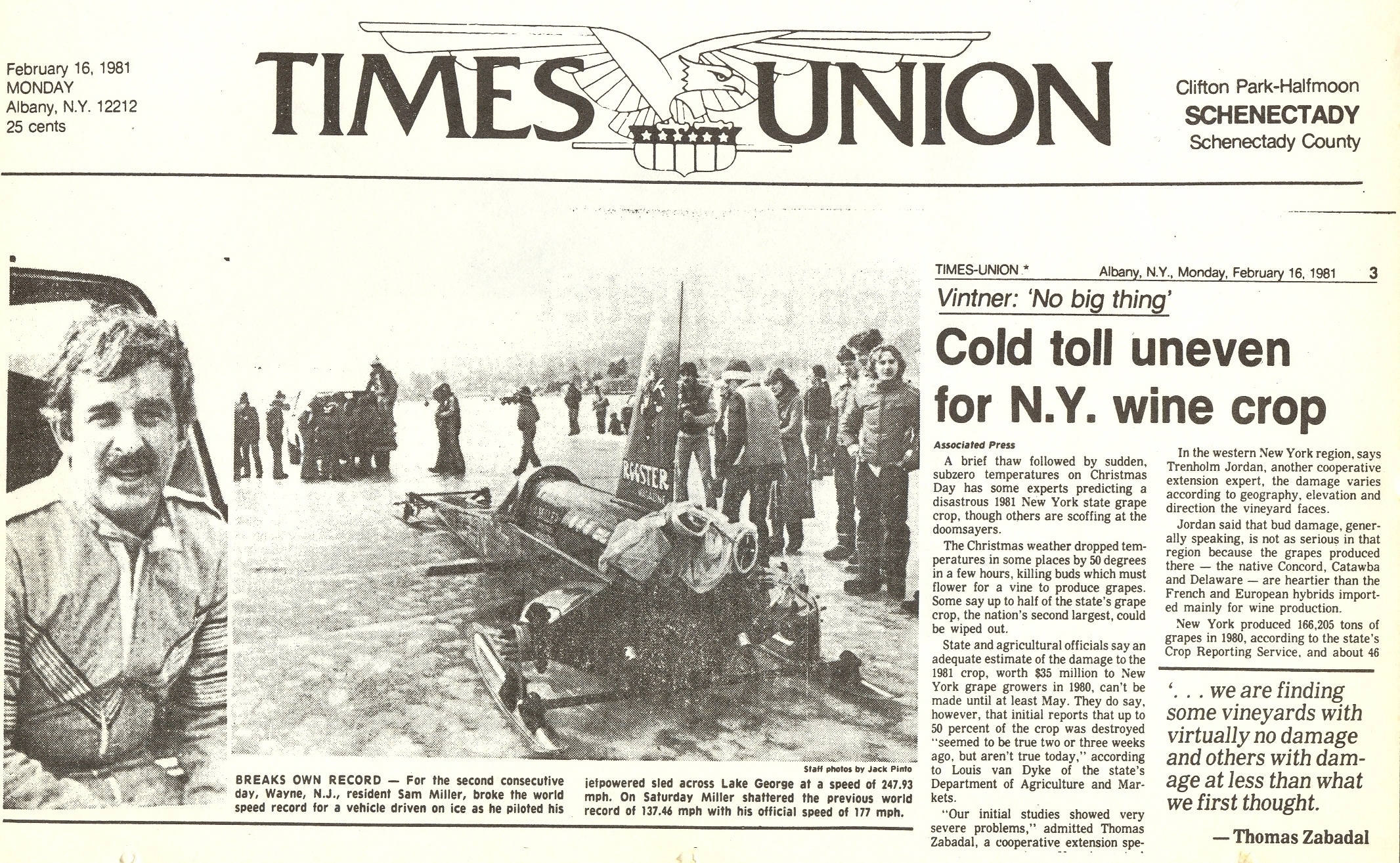 Newspaper front page copy proclaiming the ice speed record.
On Monday we said our goodbyes to Lake George officials and guests, packed up and left. Rocket Man, Inc., had to return to Wayne quickly to prepare for a test of the authors patent-applied-for oil well treatment system coming up in early March in West Virginia. But that's another story. It was hard to get adjusted to normal life again after the daily attention for the week in Lake George. We were invited to stay longer by many, but we had the oil well pilot test equipment using hydrogen peroxide to build.
There is more to the history of Sammy and I, especially continuing into the era of the oilfield trying to develop the advanced high energy gas treatment "Themox Process". We had 90% hydrogen peroxide on active oil and gas well sites! We decomposed on the well head high strength hydrogen peroxide. We had some great successes and some failures. The oil field patent jealousy and adventures led to the breakup of Rocket Man Inc., and the end of our relationship altogether. Later, I came to prove that the FMC produced hydrogen peroxide was contaiminated and FMC closed electrolytic, high concentration production down within 2 weeks. FMC scattered most of the personnel I had dealt with. The Vancouver, Washington plant producing electrolytically derived 90% concentration by weight hydrogen peroxide was closed forever. I had some downhole explosions on wells being treated, but had the engineering savy to preclude any surface danger. That could not be said of what Sammy was doing with Applied Force, and it killed him on an oil well October 22, 2002 in Midland TX. But that's another story.
Postscript
I'm including a bunch of pictures of Oxygen on display, mostly at the 1981 New York Auto Show at the Coliseum. Also, some content on other peroxide related activity that Sammy and I were pursuing. Being a packrat, I have complete records of everything we were involved in plus following records noting what happened to those participating. I have newspaper copies of the Christos Netelkos and Seymour Butan imprisonments, as well as many other photos and publications. I also have many memories of the adventures of Sammy and I over the years that we were partners. I can be emailed at [email protected].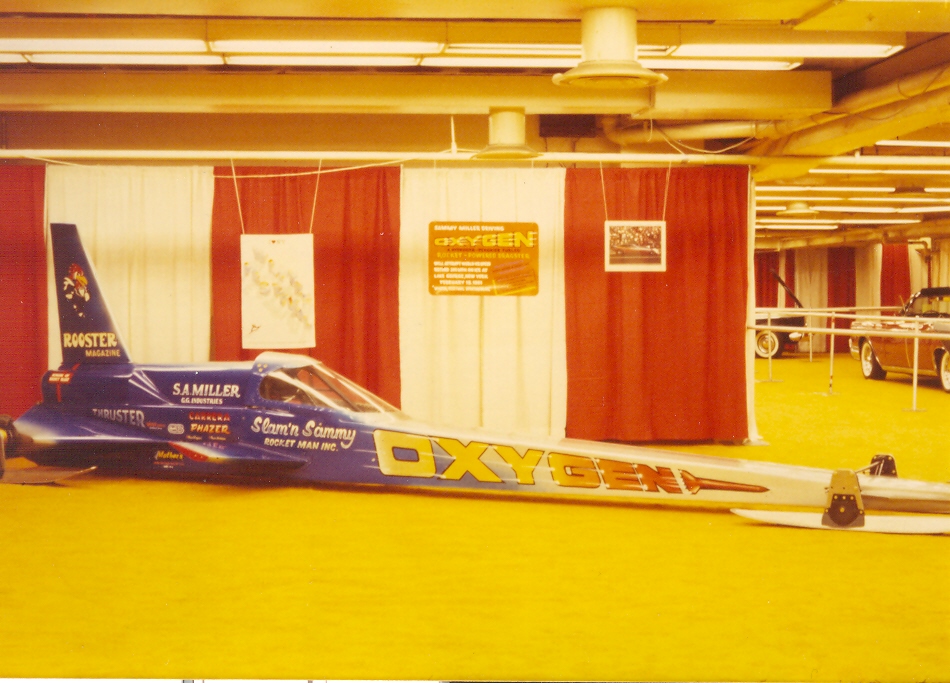 Oxygen display at 1981 New York Auto Show 1/31/81 through 2/8/81 at the Coliseum in NYC.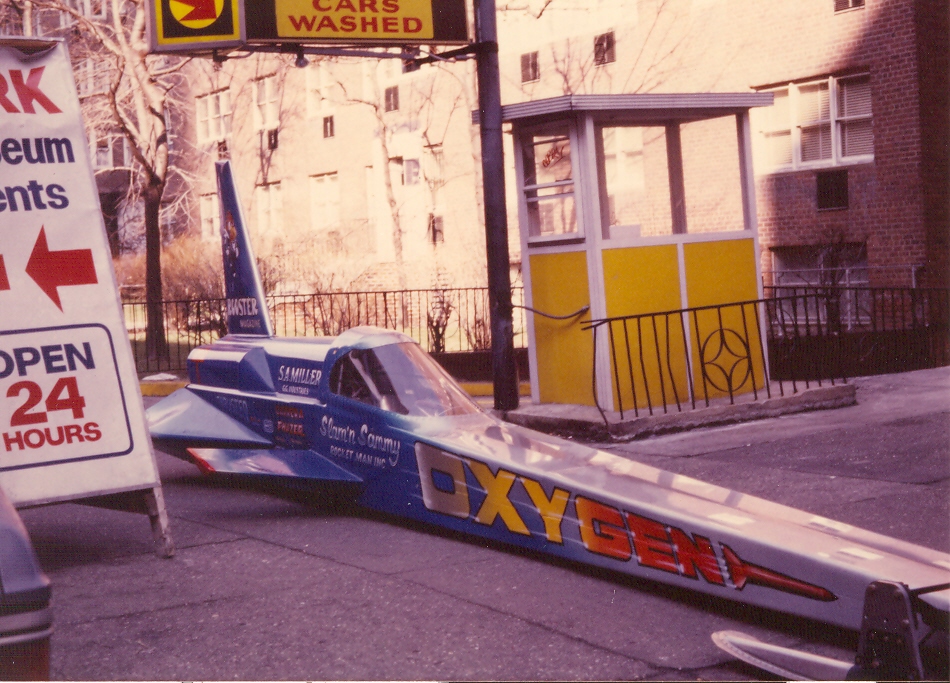 Oxygen on the street waiting for clearance to setup in the NY Coliseum, it was a hit with every vehicle passing by!
It was also a cold NYC day and took me 7 hours after trailer unload to get it into location, I was alone but used the very expensive Coliseum unionized help.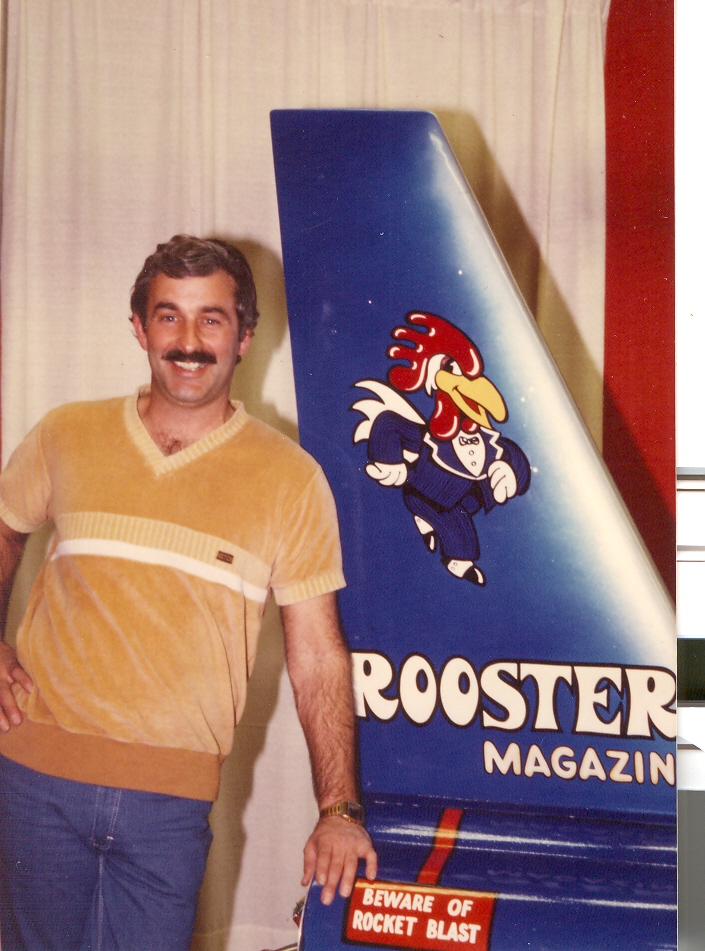 Slammin' Sammy Miller at New York Colliseum before the 1981 New York Auto Show opening.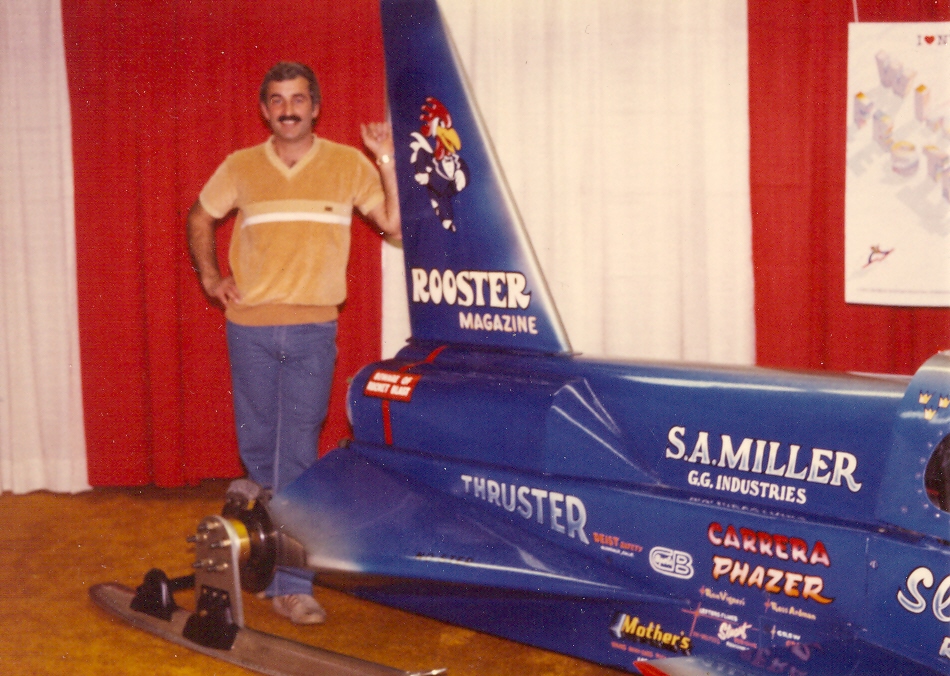 Sammy with Oxygen on skis at the 1981 New York Auto Show before he left for the Daytona 500.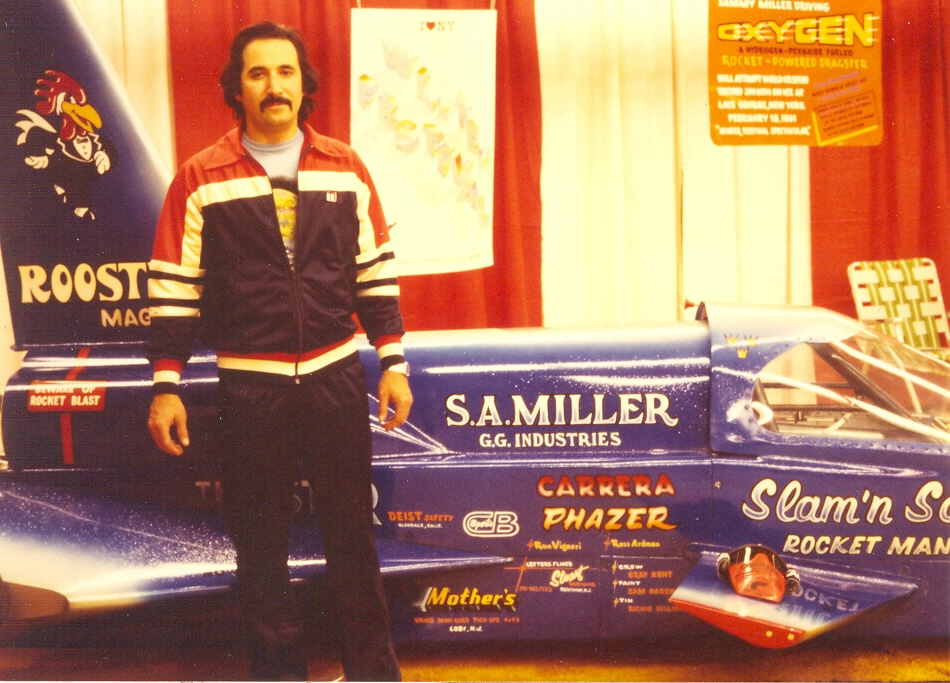 The Author with Oxygen at the Auto Show display on the mezzanine across from NYC Mayor Ed Koch's antique limo.
Oxygen on wheels with Vanishing Point at a show after the end of Rooster sponsorship and Rocket Man, Inc., (note removed logos and names) with local volunteers as a crew.
Miller in an early wheel-powered wedge, image source unknown, recently sent to me by Ethan Orenstein.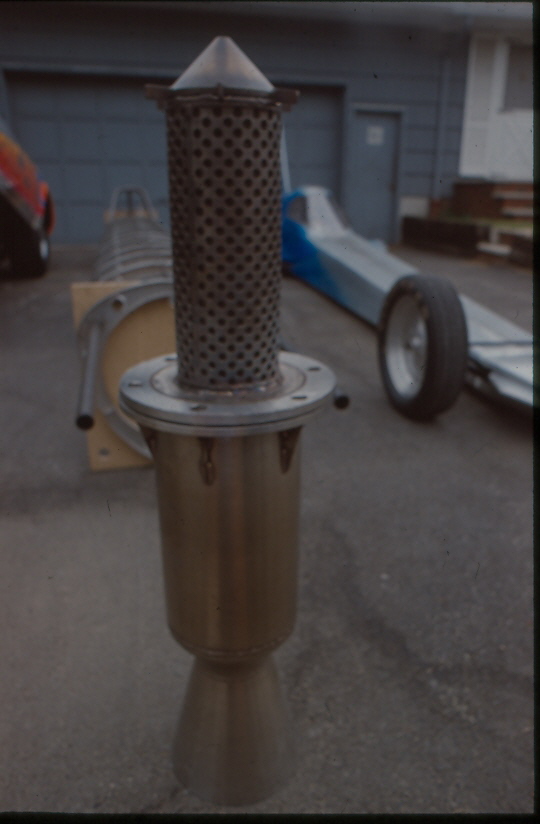 The secret scroll pack rocket motor disassembled. This may be the first publication of the item. In the background are: Vanishing Point: The LSR chassis; Oxygen under construction in front of Miller family garage.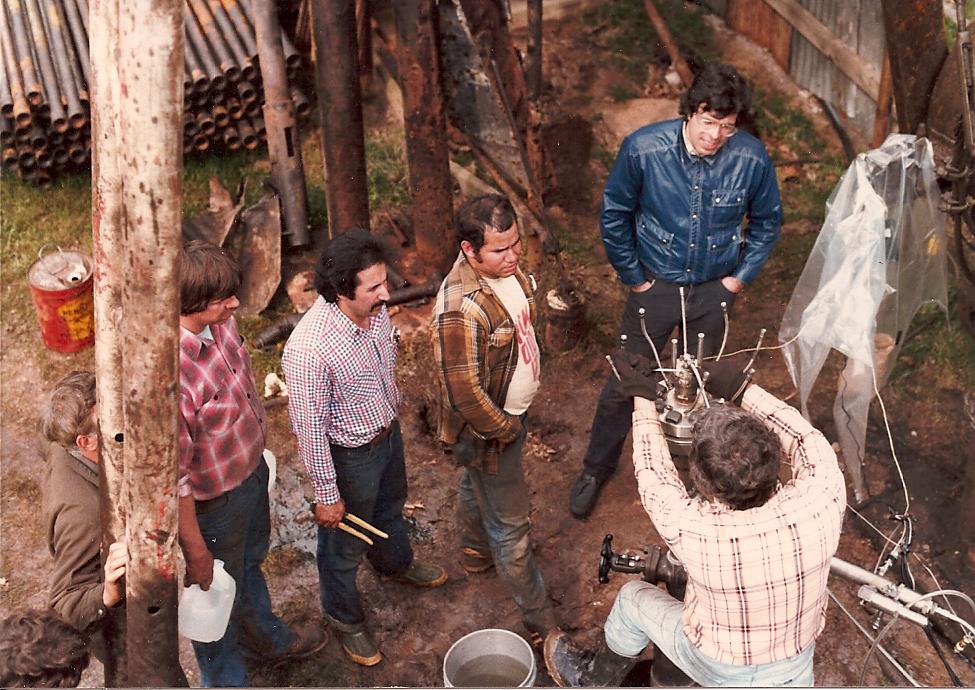 Setting up the first gas generator on West Virginia oil well for the first injection of high energy 90% H2O2 decomposition gas on 4/20/81. Sammy is attaching the stainless steel water cooling lines which will attach to a water injection manifold that is not shown. The water is used to cool the output gas to a temperature that the well tubulars can survive.
Left to right in the above photo: Joe Frame (behind posts), George Garboden, Ron Vigneri, Nelson DeRivas, Chris Nickos (Christos Netelkos), Sammy Miller (back view).
This was the author's only contract work with Netelkos and DeRivas (Reliance Gas & Oil), who were later convicted of felonies and imprisoned after convictions for oilfield scams including the Falcon Sciences stock fraud. Miller worked with them after the Rocket Man Inc. breakup. But that's another story.
Ron Vigneri and Joe Frame remotely controlling the very first Thermox Process oil well treatment on 4/21/81 with Ron's control and monitoring electronics and devices. The Thermox system was built to be remotely controlled and was completely instrumented. These two fiberglass cases housed all the control switches, indicators, and readouts.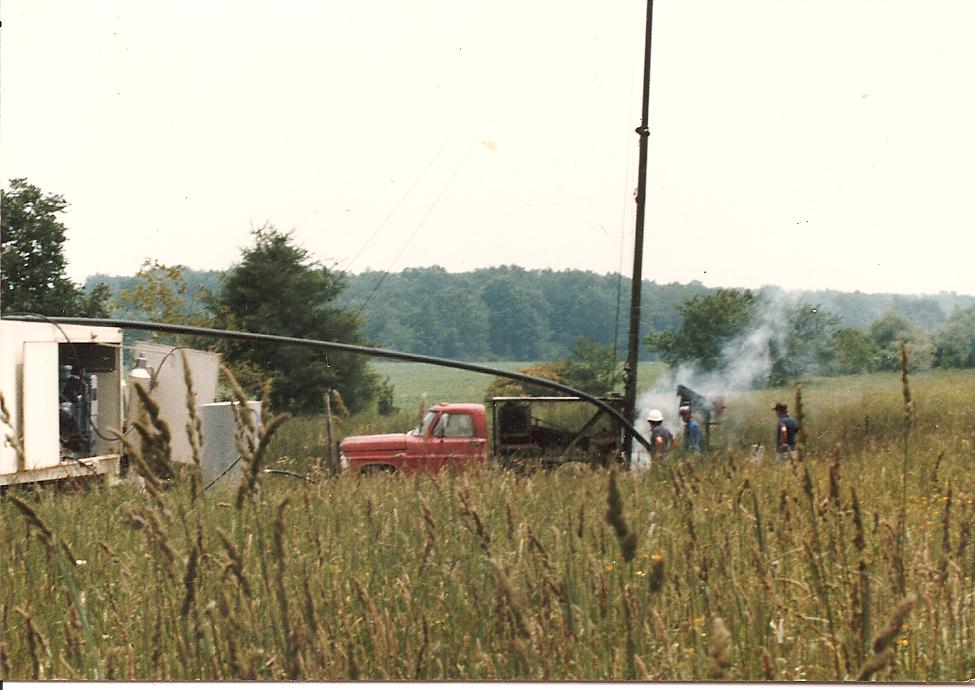 Flasher #1 well explosion on 7/6/82 that was caused by FMC contaminated 90% H2O2 killing the Thermox gas generator cat pack. About 150' of the 4" diameter steel well casing came out of the well, went straight up and then fell down on and around the Thermox truck. The pipe laying over the truck is a segment of the casing which was pushed out when H2O2 reacted at the bottom of the well. This type of explosive force was what, in my opinion, most probably killed Sammy Miller some 20 years later. By this time Sammy and I had parted company for good and the Rocket Man Inc. assets had been divided. In fact, Sammy with Oxygen was appearing at Santa Pod in England on this very day. Looking toward the camera near the smoking oil well in the image is Ray Ettenborough III who worked with me in the oil fields all over the US and on contruction projects. He was a great help on many projects and I always enjoy working or socializing with him. Ray has a wide range of skills, is very capable, and a real hard worker. We shared many experiences together, and enjoy reliving some of them whenever we get together.
This image is rotated 90 degrees to clearly show the well head assembly that was blown about 150' in altitude in the Flasher #1 explosion. It blew off the 2" diameter production tubing that runs inside the 4" casing. A Dow Chemical helicopter (oil field service division) was in the area that we thought was observing our well treatment from about 150' altitude. They later landed and I told them it was lucky they weren't hovering over the well. Imagine the headline: oil well downs helicopter!! The investigation after the explosion by Thermox and FMC Research, proved the 90% H2O2 FMC was producing was contaminated with aluminum and a stannate particulate that wore the active silver off our catalyst pack screens. That sent unreacted H2O2 downhole which causes a tripropellant reaction (water, hydrocarbon, H2O2). We proved that the whole Vancouver H2O2 production plant had defective aluminum piping plus other contamination. By October 1982 there was no longer FMC 90% H2O2 for sale after my July 1982 Final Report and FMC Reports Nos. ICG/S-82-060 and 082 by FMC's Dr. Richard Brown, Robert Norris, and Frank Caropreso. I decided not to sue FMC, absorbed the losses, and, later on, found out they had been secretly duplicating my technology while "supporting" my activities. But that's another story
As an aside, I have a very complete library on high strength hydrogen peroxide which dates to World War II and includes Tony Orsini's library given to me after his retirement. Tony worked for BECCO, FMC, Aerojet General, Walter Kidde, Reaction Motors on rocket propulsion for almost 50 years. I worked with and even hired Tony as a consultant many times over a period of about 30 years. He had input in many of my peroxide related projects and was a real expert. He was competant in mechanical, chemical, hydraulic, and thermodynamical areas that are the key elements in rocketry and other peroxide applications. Tony contributed engineering input to Rocket Man Inc., Thermox Corporation, and CleanOX Environmental over the years. Thank you Tony.
[email protected] All Rights Reserved

Back to Top