HOME

1983 Chevy S10 375 HP 350 V8 Turbo 400 Auto Trans, Daily Driver

This STREET LEGAL, pretty, fast, and loud hot rod Chevy truck was professionally custom built using only high quality driveline parts/materials.
VIN 1GCBS14B7D2204857 Just under 5,000 miles on SBC Crate engine.
Approximately 4,900 miles since build was completed in 2014 at 127,527 original miles and odometer reads 132,427 now.
Originally GM built in 1983 in Moraine, OH plant. Originally, the S-10 was a 2.8L V6 with auto trans. Now, the engine is an upgraded Summit Crate Goodwrench Max Street 1994 Chevy Camaro 350 V8 5.7L modified to 375 HP and is very strong. Engine number 10066038 with casting numbers 91 9809 and is a milled block with 1994 Chevy Camaro ZR-1 heads yielding a 9.5:1 compression ratio.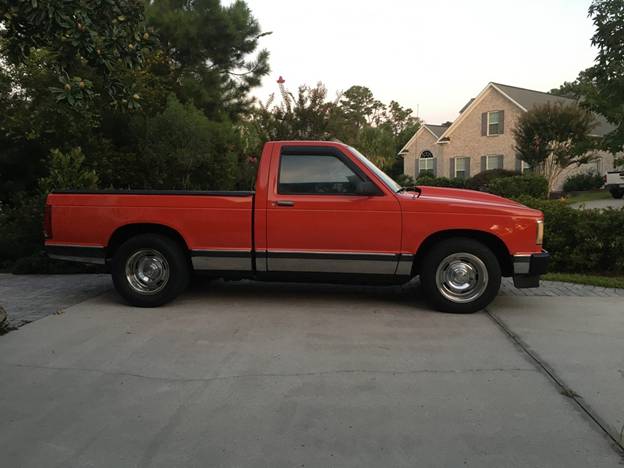 This truck needs nothing mechanically or interior wise and is road ready. Recent tune-up and always maintained. Everything works and there are no known mechanical issues.
Street legal, can pass inspection, but over 35 years old, no NC inspection required.
Runs perfect on premium (93) pump gas, required due to high compression engine.
Truck is Roman Red with no dents, looks good, sounds great, and has a nice stance. Appeared in many car shows with strong audience appeal, named "Red Ether".
Edelbrock 1406 600cfm 4-bbl carburetor on Dart II Sportsman high-rise manifold; heat shield gasket; Chev OEM mechanical fuel pump; Ron Davis LT1-type aluminum radiator with 2 rows of 1" wide tubes, thick core; Delco-Remy HEI ignition system. Powder coated black valve covers, HHE painted alternator, mechanical fuel pump, black air cleaner, vacuum reservoir, oil pan, and flywheel cover. Cowl induction fiberglass hood is another feature. Stock brakes, front disc rear drum, all rebuilt, with powered vacuum booster. Runs, drives, stops with no issues.
The S-10 7.5 inch differential is a GM5 originally with 3.89 gears, now 3.08 for high speed highway cruising.





It has 2.02/1.60 valves, chamber 64cc, Comp Cams 12-207-3 camshaft, valve train w/hydraulic flat tappet lifters, OEM 1.52 rocker arms. Crankshaft is stock GM 1994 4-bolt mains, 2-piece main seal, with stock OEM connecting rod and piston assemblies. Main and rod bearings are all Clevite premium.
TorqFlo 733690 14" diameter 12.5A 1350 CFM electric fan w/manual switch & relay. Run all day at 70mph in the hot weather at normal engine temperature and no overheating when idling.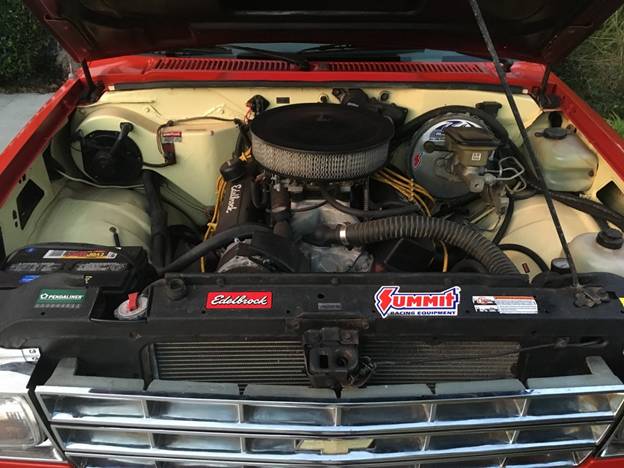 Great sounding with Hedman Hedders and custom built Cape Fear Muffler exhaust system by Jeff Baird.
Extremely high quality Race Tech rebuilt 3-speed GM Turbo 400 automatic trans (2.48, 1.48, 1.00 ratios) with linear floor shifter, stock modulator, no kick down linkage installed.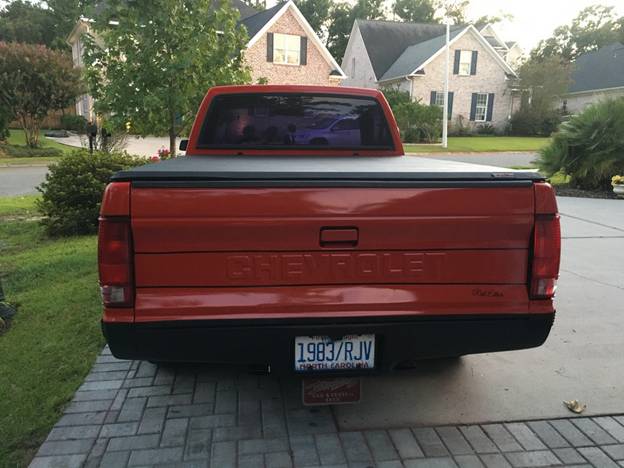 Chassis lowered 3 inches (front-spindles; rear-blocks), but does not ride bumpy, is a pleasure to drive with stock power steering and brakes. Front end built by Wilmington Auto: spindles, ball joints, tie rods, idler arm, center link, shocks new all around, and 4-wheel alignment. Richmond Gear rebuilt GM5 7.5 inch 10-bolt 3.08 differential, highway geared. Bumperless panned rear truck bed with exhaust tips out the center back below the pan.
Cragar 15" deep dish steel wheels w/chrome hub and trim rings, period correct classic style and look. Hankook tires are new, Optimo H727 215/65/15 5T front 8.5" contact width, 295/50/15 11.6" contact width rear. Plenty of rear rubber hits the road.
New window seals. GM Penderliner bed liner & tail gate liner. New roll-up tonneau cover with heavy metal stays and black vinyl.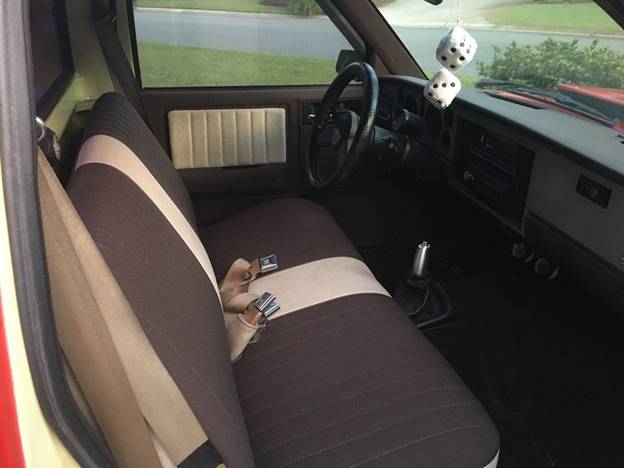 The interior is new custom material along with new mirrors, door handles, and window trim. Custom toolbox and gun rack behind seat. GM calibrated speedometer, Equus tachometer, voltage, mechanical temp, OEM mechanical oil pressure gauges. Stock key column start and stock S-10 dashboard w/cover. Panasonic aftermarket digital AM/FM/CD stereo radio with two in-dash 6" speakers and Bluetooth for smart phone connection. Features manual windows and door locks.